Vehicle
Driving In Mexico Safety Tips - RV, Cars, Motorcycles. Driving your car, Motorcycle, RV or auto and trailer to Mexico?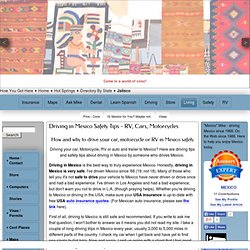 Here are driving tips and safety tips about driving in Mexico by someone who drives Mexico. Driving in Mexico is the best way to truly experience Mexico. Honestly, driving in Mexico is very safe. I've driven Mexico since '68 (19, not 18). Many of those who tell you it's not safe to drive your vehicle to Mexico have never driven or drove once and had a bad experience. The Peoples Guide to Mexico: - Auto Insurance Info.
Published November 2001 To drive in Mexico, the minimum required insurance coverage is Civil Liability Insurance.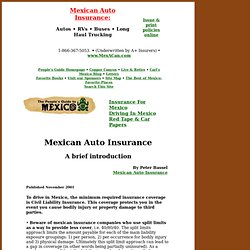 This coverage protects you in the event you cause bodily injury or property damage to third parties. • Beware of mexican insurance companies who use split limits as a way to provide less cover, i.e. 40/80/40. Vehicle Permits for Mexico - Importing Your Vehicle at Banjercito. Please Note: We are a Mexican insurance agency and can answer any questions regarding auto insurance in Mexico.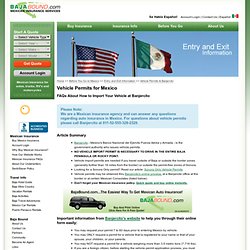 For questions about vehicle permits please call Banjercito at 011-52-555-328-2329. Article Summary Banjercito - Mexico's Banco Nacional del Ejército Fuerza Aérea y Armada - is the government authority who issues vehicle permits. NO VEHICLE IMPORT PERMIT IS NECESSARY TO DRIVE IN THE ENTIRE BAJA PENINSULA OR ROCKY POINT.Vehicle import permits are needed if you travel outside of Baja or outside the border zones (generally further than 16 miles from the border) or outside the permit-free zones of Sonora.Looking for a Sonora Only permit? Mexico Car Trip. Basic camping gear checklist : Mexico Travel. Jeffrey R.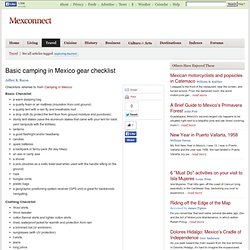 Bacon Checklists referred to from Camping in Mexico Basic Checklist a warm sleeping bag a quality foam or air mattress (insulation from cold ground) a quality tent with a rain fly and breathable roof a drop cloth (to protect the tent floor from ground moisture and punctures) sturdy tent stakes (save the aluminum stakes that came with your tent for back yard campouts with the kiddies) lanterns a good flashlight and/or headlamp candles spare batteries a backpack or fanny pack (for day hikes) an axe or camp saw a shovel a pick (doubles as a rustic toilet seat when used with the handle sitting on the ground) rope bungee cords plastic bags a geographic positioning system receiver (GPS unit) is great for backwoods navigating.
Mexico RV and Camping Parks. The REGIONS of MEXICO Mexico's Regions - Start Your Journey through Mexico here Find your favorite RV Site in Mexico.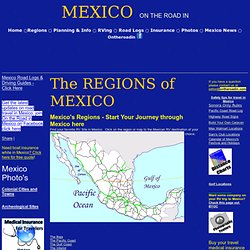 Click on the region or map to the Mexican RV destination of your choice.
---