Online Stores
Wide choice of elements and components electronic parts. The company Transfer Multisort Elektronik has in its offer products of the following companies: MOLEX, FLUKE, RICHCO, SUNON, OMRON, TYCO, SCHRACK, KINGBRIGHT, KONTAKT CHEMIE, HIRSCHMANN, ANALOG DEVI
Electronic Parts Info, Electronic Component Inventory, Parametric Search | Datasheets
usb rs485 adapter
USB2-F-5001 PCB
***QTY >= 10, CONTACT US***The USB-COM485-Plus1 module is a single channel USB to RS485 communication device. The integrated electronics of the USB-COM485-PLUS1 utilise the FTDI FT232R and includes RS485 level shifters plus Power/TXD/RXD LEDs to provide a visual indication of data traffic through the module.• The module uses a standard USB-B device connector for connection to an upstream host or hub port. RS485-level signals, including RTS/CTS modem handshake signals, are available on an industry-standard DE-9P (DB9)connector. • The module is powered from the host USB port and therefore does not require an external power supply. • Pin 9 of the DE-9P (DB9) connector provides 5V power to external devices.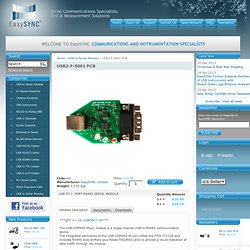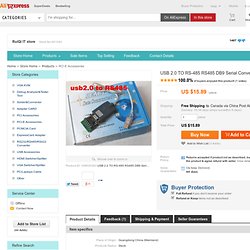 Description: Allows to connect RS-485 device to your computer by USB port. Real USB 2.0 specification compliant for faster and steadier data communication. TIA/EIA RS-485 standard compliant. Data transfer rate up to 230kbps.
Buy USB 2.0 To RS485, USB RS-485, USB CONVERTER, USB 2.0 TO RS-485 RS485 DB9 Serial Converter Adapter at Aliexpress
Opto 22 43044 Business Park Drive, Temecula, CA 92590 USA Local & outside the USA:(951) 695-3000 Toll-Free within the USA:(800) 321-6786 Fax: (951) 695-3095 Email: sales@opto22.com
Solid State Relays from Opto 22 - Optical isolation, guaranteed for life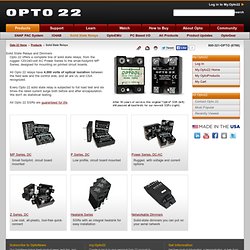 Inc. - I/O Boards
Update alert! The new ShiftBrite V2.0 is a redesigned and improved verson of the original ShiftBrite.
ShiftBrite V2.0 [MTSBR003] - $4.99 : macetech web store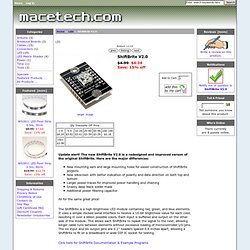 Quasar Electronic Kit Module Project UK: Industrial Educational Hobby
Conrad Electronic SE - Your Online Shop for Multimedia, Computers, Cars, Components, Modelling, Batteries & Tools
electronics-oem
Sphere's Used Electronic Test Equipment
Source ESB:  Source for electronic manufacturers, distributors, products and value added services