Online Stores
Adafruit Industries. Wide choice of elements and components electronic parts. The company Transfer Multisort Elektronik has in its offer products of the following companies: MOLEX, FLUKE, RICHCO, SUNON, OMRON, TYCO, SCHRACK, KINGBRIGHT, KONTAKT CHEMIE, HIRSCHMANN, ANALOG DEVI. Electronic Parts Info, Electronic Component Inventory, Parametric Search | Datasheets. Usb rs485 adapter. USB2-F-5001 PCB. ***QTY >= 10, CONTACT US***The USB-COM485-Plus1 module is a single channel USB to RS485 communication device.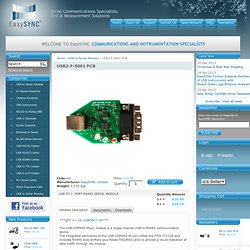 The integrated electronics of the USB-COM485-PLUS1 utilise the FTDI FT232R and includes RS485 level shifters plus Power/TXD/RXD LEDs to provide a visual indication of data traffic through the module.• The module uses a standard USB-B device connector for connection to an upstream host or hub port. RS485-level signals, including RTS/CTS modem handshake signals, are available on an industry-standard DE-9P (DB9)connector. • The module is powered from the host USB port and therefore does not require an external power supply. • Pin 9 of the DE-9P (DB9) connector provides 5V power to external devices. Buy USB 2.0 To RS485, USB RS-485, USB CONVERTER, USB 2.0 TO RS-485 RS485 DB9 Serial Converter Adapter at Aliexpress.
Description: Allows to connect RS-485 device to your computer by USB port.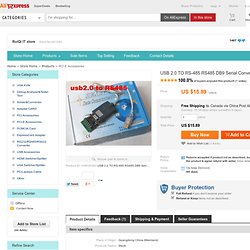 Real USB 2.0 specification compliant for faster and steadier data communication. TIA/EIA RS-485 standard compliant. Data transfer rate up to 230kbps. Solid State Relays from Opto 22 - Optical isolation, guaranteed for life. Opto 22 43044 Business Park Drive, Temecula, CA 92590 USA Local & outside the USA:(951) 695-3000 Toll-Free within the USA:(800) 321-6786 Fax: (951) 695-3095 Email: sales@opto22.com Opto 22 Home Products Solid State Relays Solid State Relays and Dimmers.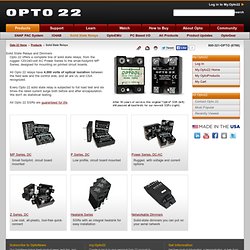 Inc. - I/O Boards. ShiftBrite V2.0 [MTSBR003] - $4.99 : macetech web store. Update alert!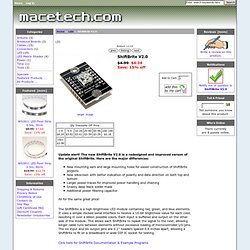 The new ShiftBrite V2.0 is a redesigned and improved verson of the original ShiftBrite. Here are the major differences: New mounting ears and large mounting holes for easier construction of ShiftBrite projects New silkscreen with better indication of polarity and data direction on both top and bottom Larger power traces for improved power handling and chaining Snazzy deep black solder mask Additional power filtering capacitor All for the same great price! The ShiftBrite is a high-brightness LED module containing red, green, and blue elements. Pololu Robotics and Electronics. Maplin Electronics : Sale Now On.
Quasar Electronic Kit Module Project UK: Industrial Educational Hobby. Conrad Electronic SE - Your Online Shop for Multimedia, Computers, Cars, Components, Modelling, Batteries & Tools. Electronics-oem. Sphere's Used Electronic Test Equipment. Source ESB:  Source for electronic manufacturers, distributors, products and value added services.
---