Excel
I've been a long time fan of CouchDB, one of the many NoSQL databases to appear in the last few years. CouchDB is a document-oriented database, which with solid B-tree indexing and easy replication, topped off by a MapReduce style view mechanism, puts it up there as a best-of-breed noSQL datastore. Now it may seem strange that somebody whose SQL – does exactly what it says on the tin post clearly marks him out as an RDBMS fanboy, can also sing the praises of a noSQL database. Are they not mutually exclusive? To many, particularly in the noSQL world, this appears to be the case, with some clearly determined to re-invent the wheel, ignoring the lessons learned by relational database practitioners.
Excel as a document-oriented NoSQL database | Gobán Saor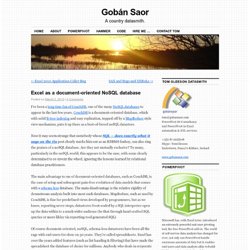 It's no secret that I'm a huge fan of SQLite and Excel, particularly when used in combination. I also greatly admire the open source BI engines, Palo and Mondrian. Mondrian appeals because of its "ROLAP with a cache" architecture and its implementation of MS's excellent MDX language. When I say MDX is excellent I'm talking with my professional programmer's hat on, as an end-user tool it's a non-runner.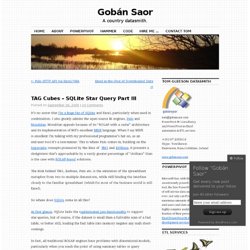 TAG Cubes – SQLite Star Query Part III | Gobán Saor
One of the many things that delights me about PowerPivot is the central role played by the Star Schema. Those of you reading with a data-warehousing background would shrug your shoulders and say: "So what, what else would you expect to find at the core of a BI tool?". Those from an Excel PivotTable background would ask: "What's a Star Schema, why do we need one,what's wrong with a the good old-fashioned single flattened table?".
Star Schemas – to boldly go where no Excel spreadsheet has gone before | Gobán Saor
Macaferi's blog: NPOI with Excel Table and dynamic Chart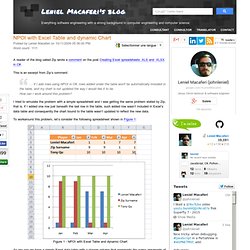 A reader of the blog called Zip wrote a comment on the post Creating Excel spreadsheets .XLS and .XLSX in C#. This is an excerpt from Zip's comment: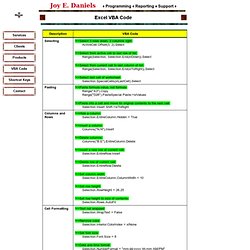 Visual Basic for Applications (VBA) Code Samples for Microsoft Excel
'==Hide activity while macro runs: Application.ScreenUpdating = False '==Turn off automatic alerts: Application.DisplayAlerts = False '==Freeze panes: ActiveWindow.FreezePanes = True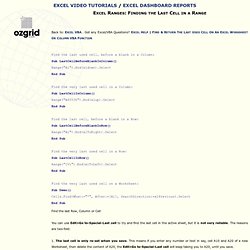 Excel Ranges: Finding the Last Cell in a Range
Back to: Excel VBA . Got any Excel/VBA Questions? Excel Help | Find & Return The Last Used Cell On An Excel Worksheet Or Column VBA Function Find the last used cell, before a blank in a Column: Sub LastCellBeforeBlankInColumn() Range("A1").End(xldown).Select End Sub Find the very last used cell in a Column: Sub LastCellInColumn() Range("A65536").End(xlup).Select End Sub Find the last cell, before a blank in a Row: Sub LastCellBeforeBlankInRow() Range("A1").End(xlToRight).Select End Sub Find the very last used cell in a Row: Sub LastCellInRow() Range("IV1").End(xlToLeft).Select End Sub Find the very last used cell on a Worksheet: Sub Demo() Cells.Find(What:="*", After:=[A1], SearchDirection:=xlPrevious).Select End Sub Find the last Row, Column or Cell