Jaketrigg
Jake Trigg
You may remember me from such commercial smash hits as "Luunar" or the couple times I threw a boot at the TV.
Shopping
Ideas for Action. Buddhism. Jobs. Websites. Course Overview - Learning Creative Learning. Course Syllabus The Syllabus for Spring 2014 is a work in progress.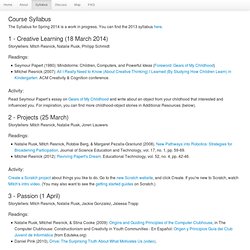 You can find the 2013 syllabus here. 1 - Creative Learning (18 March 2014) Storytellers: Mitch Resnick, Natalie Rusk, Philipp Schmidt Readings: Implementation Consultant. Photoshop. Bloody Valentine. Music. HDO @ UT.
SXSW 2013
Design. Pearltrees videos. Getting started.
---