HTML5
Overview html5sql is a light JavaScript module that makes working with the HTML5 Web Database a whole lot easier. Its primary function is to provides a structure for the SEQUENTIAL processing of SQL statements within a single transaction.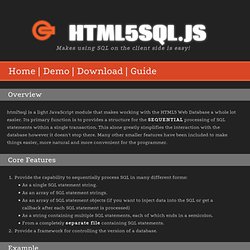 js Home Page
HTML5 Storage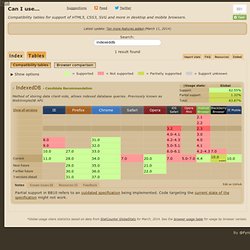 When can I use... Support tables for HTML5, CSS3, etc
Feature table embedding The WCIU compatibility tables can be embedded through an iframe on your own website by appending "/embed" to any feature page's URL like this: http://caniuse.com/[feature id]/embed For additional customization, use the following form: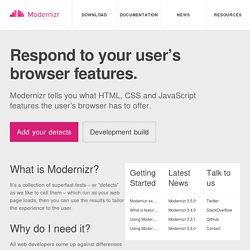 Modernizr is a JavaScript library that detects HTML5 and CSS3 features in the user's browser. Why use Modernizr? Taking advantage of cool new web technologies is great fun, until you have to support browsers that lag behind. Modernizr makes it easy for you to write conditional JavaScript and CSS to handle each situation, whether a browser supports a feature or not. It's perfect for doing progressive enhancement easily.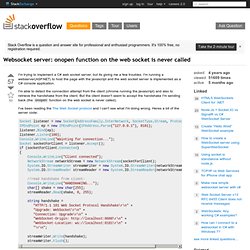 C# websocket server
I'm trying to implement a C# web socket server, but its giving me a few troubles. I'm running a webserver(ASP.NET) to host the page with the javascript and the web socket server is implemented as a C# console application. I'm able to detect the connection attempt from the client (chrome running the javascript) and also to retrieve the handshake from the client. But the client doesn't seem to accept the handshake I'm sending back (the onopen function on the web socket is never called). I've been reading the The Web Socket protocol and I can't see what I'm doing wrong. Heres a bit of the server code: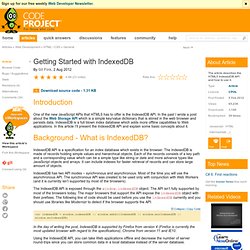 Getting Started with IndexedDB
Download source code - 1.31 KB Introduction One of the new JavaScript APIs that HTML5 has to offer is the IndexedDB API. In the past I wrote a post about the Web Storage API which is a simple key/value dictionary that is stored in the web browser and persists data.
current community your communities Sign up or log in to customize your list. more stack exchange communities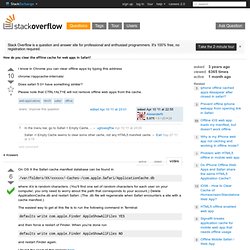 web applications - How do you clear the offline cache for web apps in Safari
Creating HTML5 Offline Web Applications with ASP.NET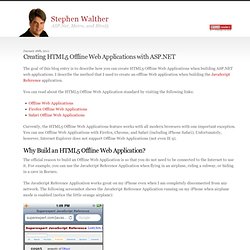 The goal of this blog entry is to describe how you can create HTML5 Offline Web Applications when building ASP.NET web applications. I describe the method that I used to create an offline Web application when building the JavaScript Reference application. You can read about the HTML5 Offline Web Application standard by visiting the following links: Currently, the HTML5 Offline Web Applications feature works with all modern browsers with one important exception. You can use Offline Web Applications with Firefox, Chrome, and Safari (including iPhone Safari).
HTML 5 experimentation and demos I've hacked together. Click on the browser support icon or the technology tag to filter the demos (the filter is an OR filter). Learn the power tools for your job: git, SASS, require.js and more One day of tutorials run by 3 different teachers. Choose 4 topics from: git, require.js, SASS, testing, debugging and build processes - and master your tools.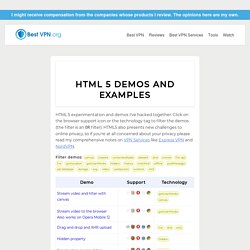 mb.ideas.repository - creativity - My videos
HTML5 Gallery | HTML5 Samples | HTML5 Website | HTML5 Example | HTML5 Arena - Arena of sites using HTML5 markup