Curated design store
Jump from Paper Bags - Perfect for Tablets, Shopping, and Fashion! / Cheese!
Welcome to ecoBibi!
Spin Ceramics | China Design Hub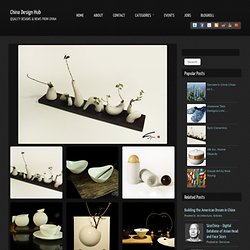 Posted on March 12, 2012 by waikit Spin Ceramics is a Shanghai based brand that produces simple, organic, elegant, fluid and modern ceramics designed and made by a collective of designers led by art director Gary Wang. The ceramics are made in the famous 'Porcelain Capital' Jingdezhen with traditional handcraft. Here are the words from Gary Wang at the grand opening of the Beijing store in March 2006:
One For One Movement - A Pair Of New Shoes Is Given To A Child In Need With Every Pair Purchased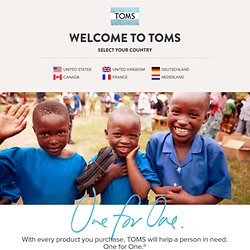 In 2006, TOMS founder Blake Mycoskie befriended children in a village in Argentina and saw that they didn't have adequate shoes to protect their feet. Wanting to help, he created TOMS Shoes, a company that would match every pair of shoes purchased with a pair of new shoes for a child in need. One for One.® In 2011, the One for One model was expanded and TOMS Eyewear was launched. With every pair purchased, TOMS helps restore sight to a person in need.
Hardly ever are wine bottles recycled creatively, they either become candleholders caked with wax, vases or tap water centerpieces at restaurants. As an alternative to the norm, Pure-Bottle repurposed and transformed wine bottles into three wonderful ways most will find useful. Lucirmás, a Barcelona-based studio, designed each Pure-Bottle, which is cut with precision to create a lantern, glass, and spoon. Lucirmás designs are comprised of 100% recycled glass, and each handcrafted piece tells a story. And with Pure-Bottle , the brilliant concept is minimal yet functional, and not one facet of the wine bottle is compromised with the formation of a new object (when all three are stacked together the bottle's original shape is seen intact). The multi-purpose bottle creates a mood as a lantern.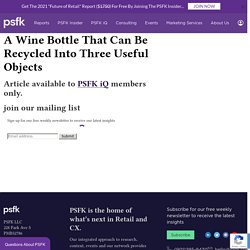 A Wine Bottle That Can Be Recycled Into Three Useful Objects
works | BrutCake
失物招领 lost & found
暖岛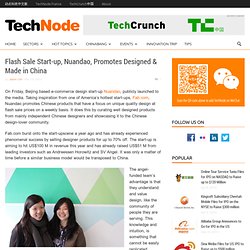 Flash Sale Start-up, Nuandao, Promotes Made in China Design
On Friday, Beijing based e-commerce design start-up Nuandao, publicly launched to the media. Taking inspiration from one of America's hottest start-ups, Fab.com, Nuandao promotes Chinese products that have a focus on unique quality design at flash sale prices on a weekly basis. It does this by curating well designed products from mainly independent Chinese designers and showcasing it to the Chinese design-lover community.
OTRA / On The Road Again on the Behance Network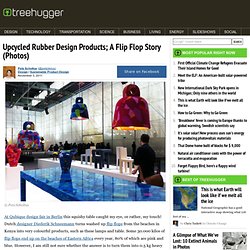 Upcycled Rubber Design Products; A Flip Flop Story (Photos)
© Petz Scholtus At Qubique design fair in Berlin this squishy table caught my eye, or rather, my touch! Dutch designer Diederik Schneemann turns washed up flip flops from the beaches in Kenya into very colourful products, such as these lamps and table.
Cork Umbrella by Sandra Correia
KUU is a Shanghai-based design practice run by Kok-Meng Tan from Singapore and Satoko Saeki from Japan. It grounds all scales of design from interiors and installations to architecture and planning with the same mix of abstract disciplinary thinking and situational practicality. KUU strives to make novel works that are direct and simple. 上海と東京を拠点にアジアを活動ベースにする建築設計事務所。佐伯聡子、Kok-Meng Tan(シンガポール)によるパートナーシップ。 SHANGHAI OFFICE: 32 fuxing west road, #2, shanghai 200031, shanghai china tel/fax: +86 (0)21 6433 7792 上海库优建筑设计有限公司: 200031 上海市徐汇区复兴西路32号2室, 021 6433 7792 (电话+传真)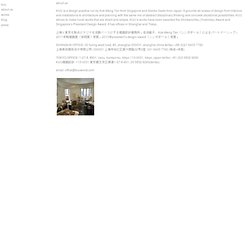 kuu world » about us
Lampshade CYNARA is made in Quebec from cardboard recycled 100 %. The package contains a lampshade. The electric system is not supplied. The assembly of the lampshade is easily made, without tool. An explanatory guide is included in the packaging.
Otra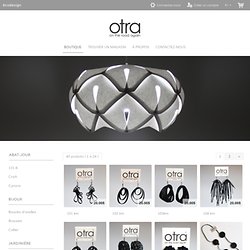 kuu bangkok tek