Quilty
Finished Paintbox Quilt. The Paintbox Quilt is finished!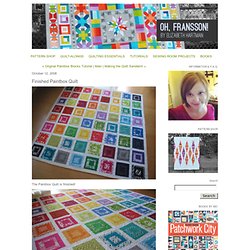 This quilt is made with 64 - 6.5" blocks in 32 color combinations (8 by 8 blocks with 1.5" sashing). Each combination is a Kona cotton solid and a monochromatic quilting print. One of the blocks in each combination is made with a printed center and outer ring and the other is made with a solid center and outer ring. I had a hard time deciding how to lay out the blocks for the quilt.
Red Pepper Quilts. Cluck Cluck Sew. Crazy mom quilts. Diary of a Quilter - a quilt blog. P.s. i quilt. Moda Bake Shop. Handmade by Alissa | Modern Quilting.
A Quilting Life. Lazy Gal Quilting.
---