Études impact rs
[Cahier de recherche]Etude sur les utilisateurs et les contributeurs de Wikipédia. Dans le cadre du projet de recherche CCCP-Prosodie sur les communautés en ligne, les chercheurs du groupement M@rsouin ont réalisé une étude sur les contributeurs au projet Wikipedia France .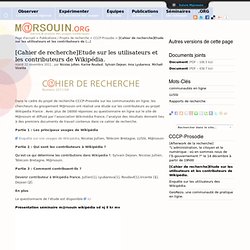 Avec plus de 16000 réponses au questionnaire en ligne sur le site de M@rsouin et diffusé par l'association Wikimédia France, l'analyse des résultats donnent lieu à des premiers documents de travail contenus dans ce cahier de recherche. Partie 1 : Les principaux usages de Wikipédia Enquête sur vos usages de Wikipédia, Nicolas Jullien, Télécom Bretagne, LUSSI, M@rsouin. L'usage des réseaux sociaux chez les 8-17 ans. Que font-ils sur les réseaux sociaux ?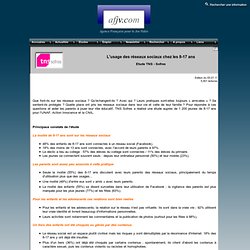 Qu'échangent-ils ? Avec qui ? Cprospective07_3. Donnat pratiques culturelles et usages d'internet - Recherche Google. Gallica : études d'usages et enquêtes. Www.jimrichardson.co.uk/research.pdf. Www.jimrichardson.co.uk/twitter.pdf. Research – Museums on Twitter. During April 2011 MuseumNext ran an online survey about Twitter and the way that museums should use it.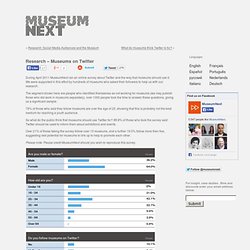 We were supported in this effort by hundreds of museums who asked their followers to help us with our research. The segment shown here are people who identified themselves as not working for museums (we may publish those who did work in museums separately), over 1000 people took the time to answer these questions, giving us a significant sample. 79% of those who said they follow museums are over the age of 25, showing that this is probably not the best medium for reaching a youth audience. So what do the public think that museums should use Twitter for? 98.9% of those who took the survey said Twitter should be used to inform them about exhibitions and events.
---