Classik
Gustav Holst - The Planets - Jupiter, the Bringer of Jollity. Piotr Ilich Tchaikovsky - 1812 Overture (Finale) 0OoFACUoO0. Ravel - Miroirs No. 4, "Alborada del Gracioso" Sheet Music + Audio. Maurice Ravel - Bolero. Ravel: La Valse / Bernstein · Orchestre National de France. Erik Satie - Gymnopédie No.1. Sorcerer's Apprentice - Paul Abraham Dukas. Debussy - "La Mer": "From Dawn to Midday on the Sea" Debussy: Suite bergamasque - 3. Clair de lune (1890-1905) Gabriel FAURE': Pavane, Op. 50 - Paintings By "CLAUDE MONET" Massenet - Thais: Meditation. Massenet - Scènes Napolitaines. Emmanuel Chabrier: "Espana" Waldbühne 2001. Chabrier; Bourée Fantasque. Orchestre National de l'ORTF/ Paul Paray. Emmanuel Chabrier : Joyeuse Marche for Orchestra - Ernest Ansermet and His Orchestra.
Bizet - L'Arlesienne Suite No. 2: Farandole. Georges Bizet - Habanera from ''Carmen Suite No.2'' Georges Bizet - "Les Toreadors" from Carmen Suite No. 1. Émile Waldteufel - The Skater's Waltz, Op. 183. The Flower Duet (Lakmé) Léo Delibes - Coppélia (La Source) - Act III - XI. Galop final. Maurice Ravel - Bolero. Chopin - Nocturne (Notturno) Op. 9 n. 2 (Maurizio Pollini) Marcha funebre - Chopin. Frédéric Chopin - Prelude in E-Minor (op.28 no. 4)
Camille Saint-Saëns - Danse Macabre. Jacques Offenbach "La vie Parisienne" Overture. Offenbach - Barcarolle , from 'The Tales of Hoffmann' Jacques Offenbach - Galop infernal (Can Can) - Orpheus in der Unterwelt. Charles Gounod - Funeral March of a Marionette. Charles Gounod - Gloire immortelle (Soldiers ' Chorus) Berlioz - Symphonie Fantastique - March To The Scaffold. Roman Carnival Overture - Hector Berlioz. Couperin - Les Barricades mysterieuses. Charpentier: Te Deum - Prelude. Strauss - Radetzky March - Karajan. Rossini: William Tell Overture: Final. Gioachino Rossini : The Barber Of Seville - Overture. Mussorgsky - Night On Bald Mountain. The City of Prague Philharmonic Orchestra - Something Inside so Strong.
Bênção das Cinzas e Missa- José Joaquim Emerico Lobo de Mesquita. Classical/guitar, Jim Greeninger, Recuerdos de la Alhambra. The Diva Dance (with lyrics) - Inva Mula Tchako. Andrea Bocelli- Con te Partiro. Sabre Dance - Aram Khachaturian. Edvard Grieg - Peer Gynt - Morning Mood. Dmitri Shostakovich - Romance (from The Gadfly) Dmitri Shostakovich - Waltz No. 2. Tchaikovsky - Marche Slave. Tchaikovsky - None But The Lonely Hearts. Tchaikovski - Casse-noisette (Nutcracker) - Valse des fleurs. Yo-Yo Ma: Elgar Cello Concerto, 1st mvmt. Smetana ~ Moldau. Haydn-"The Clock" Symphony No.101 in D Major-Mov.1/4. Toccata & Fugue in d minor (BACH, J.S.)
Handel - Sarabande. Handel - Hallelujah. Sérgio SC. Chaîne de ClassicalMusicOnly. Bach - Double Violin Concerto in D minor 2nd movement, Largo 7,773,091 views 5 years ago Title : Johann Sebastian Bach, Double Violin Concerto in D minor (2nd movement, Largo Ma Non Tanto (BWV 1043) From Wikipedia , The Concerto for Two Violins in D minor (BWV 1043) is perhaps one of the most famous works by J.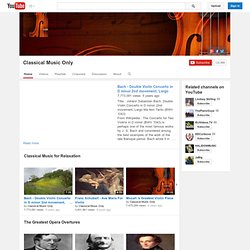 S. Bach and considered among the best examples of the work of the late Baroque period. Johannes Brahms - Hungarian Dance No. 5. Johannes Brahms - Lullaby. Prokofiev - Peter And The Wolf March. Prokofiev - Dance of the Knights. Edvard Grieg, In the Hall of the Mountain King from "Peer Gynt". Rachmaninoff plays Chopin Nocturne Op. 9 No. 2. Schubert : Piano Trio N° 2, II.
Schubert "Serenade". Wagner - Ride of the Valkyries. Canone di Pachelbel - 432 Hz (frequenza benefica) - HD. Aria Suite 3 BWV1068 Bach - Tune 432 Hz - Iso & Alpha Visual BWE 8Hz. Wolfgang Amadeus Mozart - Symphony No. 25 in G minor. Mozart The Magic Flute Queen of the Night Aria. Mozart 's Greatest Violin Piece. Mozart - Piano Sonata No. 11 in A major, K. 331 - I. Andante grazioso.
Wolfgang Amadeus Mozart - Piano Concerto No. 21 - Andante. Vivaldi - Spring. Vivaldi - Four Seasons (Winter) Beethoven's 5th Symphony. Beethoven Symphony No.9.
---