Classik
Gabriel FAURE': Pavane, Op. 50 - Paintings By "CLAUDE MONET"
Sabre Dance - Aram Khachaturian
Dmitri Shostakovich - Romance (from The Gadfly)
Edvard Grieg - Peer Gynt - Morning Mood
Tchaikovski - Casse-noisette (Nutcracker) - Valse des fleurs
Tchaikovsky - None But The Lonely Hearts
Haydn-"The Clock" Symphony No.101 in D Major-Mov.1/4
Jacques Offenbach - Galop infernal (Can Can) - Orpheus in der Unterwelt
Chopin - Nocturne (Notturno) Op. 9 n. 2 (Maurizio Pollini)
Handel - Sarabande
Handel - Hallelujah
Chaîne de ClassicalMusicOnly
Welcome to YouTube!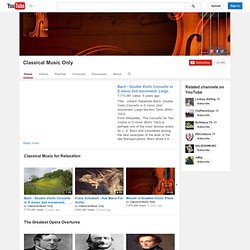 Johannes Brahms - Lullaby
Prokofiev - Peter And The Wolf March
Prokofiev - Dance of the Knights
Rachmaninoff plays Chopin Nocturne Op. 9 No. 2
Schubert : Piano Trio N° 2, II.
Canone di Pachelbel - 432 Hz (frequenza benefica) - HD
Aria Suite 3 BWV1068 Bach - Tune 432 Hz - Iso & Alpha Visual BWE 8Hz
Wolfgang Amadeus Mozart - Symphony No. 25 in G minor
Mozart The Magic Flute Queen of the Night Aria
Mozart 's Greatest Violin Piece
Vivaldi - Spring
Beethoven Symphony No.9
Neofeudalismo y Derecha