Technology
Leap Motion. Most Wanted Stuff. Ever since the iPhone debuted in 2007, people have been looking for a good way to integrate it into their cars.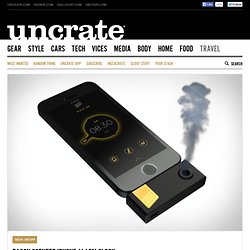 Some used dash mounts, some rely on Bluetooth, but nearly every option relied on you using the iPhone itself. But no more. Arriving on select models this year, Apple CarPlay integrates your iPhone 5, 5C, or 5S with your car's existing controls and infotainment screen, letting you use Siri, the car's touchscreen, or even various knobs and controls to do things like get directions, make and answer calls, send and receive texts, and play music, all while enjoying an Apple-designed, iOS-like interface that's worlds better than the built-in mess you're used to.
3-D Printer with Nano-Precision. Printing three-dimensional objects with incredibly fine details is now possible using "two-photon lithography.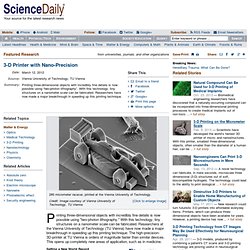 " With this technology, tiny structures on a nanometer scale can be fabricated. Researchers at the Vienna University of Technology (TU Vienna) have now made a major breakthrough in speeding up this printing technique: The high-precision-3D-printer at TU Vienna is orders of magnitude faster than similar devices. This opens up completely new areas of application, such as in medicine. Setting a New World Record. Sculpting in Blender 2.59 (Part 1) Pranav Mistry: The thrilling potential of SixthSense technology | Video on TED.com - StumbleUpon.
---