Bizancjum
An Error Occurred Setting Your User Cookie. The JSTOR site requires that your browser allows JSTOR ( to set and modify cookies.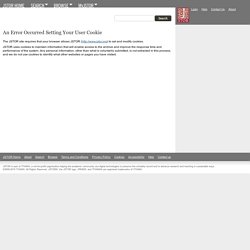 JSTOR uses cookies to maintain information that will enable access to the archive and improve the response time and performance of the system. Any personal information, other than what is voluntarily submitted, is not extracted in this process, and we do not use cookies to identify what other websites or pages you have visited. An Error Occurred Setting Your User Cookie. 1512675.pdf.bannered. Art Review: Transition to Christianity, Onassis Cultural Center, New York City | California Literary Review. Plate with David fighting a Bear 628 – 30 Constantinopolitan workshop Silver, cast, hammered, engraved, punched, and chased Max. diam. 0.14 m.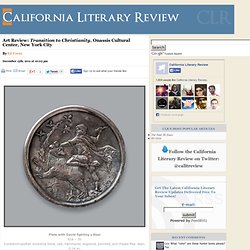 Found at Lambousa, Cyprus Nicosia, Cyprus Museum, inv. no. J453 Photo © Cyprus Museum, Nicosia An insightful art exhibition at the Onassis Cultural Center in New York City is providing answers to one of the central mysteries of Western civilization. How did Christianity evolve from a persecuted religious sect under the Roman Empire into a global faith and one of the world's greatest patrons of the arts? Transition to Christianity presents 170 rare artifacts from the third to the seventh centuries AD, many never seen before in the United States. Online Publications | Publications | About | Dumbarton Oaks. Books in Print Online Publications Dumbarton Oaks Papers.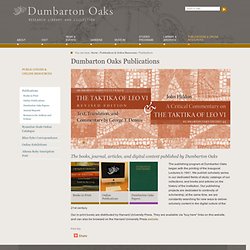 Wielki Jubileusz Watopedu - 21 stycznia 2007r. - Monaster w Ujkowicach. Oryginalna Ikona Watopedzkiej Bogurodzicy z 21 stycznia 807r.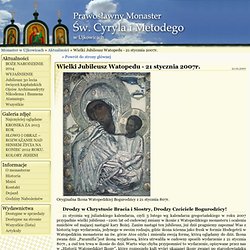 Drodzy w Chrystusie Bracia i Siostry, Drodzy Czciciele Bogurodzicy! 21 stycznia wg juliańskiego kalendarza, czyli 3 lutego wg kalendarza gregoriańskiego w roku 2007 przypadnie wielki jubileusz –1200 lat od cudownej zmiany w ikonie z Watopedzkiego monasteru i ocalenia mnichów od mającej nastąpić kary Bożej. Zanim nastąpi ten jubileusz, już dziś pragniemy zapoznać Was z historią tego wydarzenia, jedynego w swoim rodzaju, gdzie ikona ścienna jako fresk w formie Hodegetrii w Watopedzkim monasterze na św. górze Atos ożyła i zmieniła swoją formę, którą oglądamy do dziś. Ikona zwana dziś "Paramifia"jest ikoną wyjątkową, która utrwaliła w cudowny sposób wydarzenie z 21 stycznia 807r., a cud ten trwa w ikonie do dziś. Warto więc chyba przypomnieć to wydarzenie, opisywane przez nas w "Historii Watopedzkiej Ikony", które rozpoczęło kult wyżej ukazanej ikony zwanej po starosłowiańsku "Utiszenie ili Otrada".
Byzantine Art | Thematic Essays. "We came to the sands of Acre, where we pitched camp, the King [Louis IX] and the host.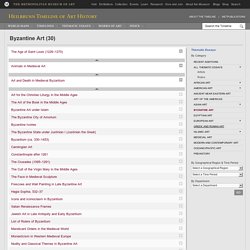 Thither in that place came to me a troop of many people from Great Armenia, that were going on pilgrimage to Jerusalem … By an interpreter … they begged me that I would show them the saintly King. I went to the King where he sat in a pavilion, leaning against the pole of the pavilion … I said to him: 'Sir, there is without a band of many folk from Great Armenia, that are going to Jerusalem,... More » Kanony Euzebiusza. Tablice Kanonów Euzebiusza (zakończenie pierwszego kanonu).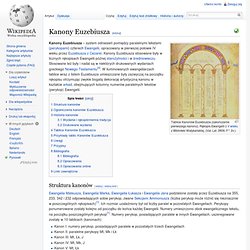 Rękopis Ewangelii z V wieku z Biblioteki Watykańskiej, (Vat. Lat. 3806. F° 2v.) Manuel d'art byzantin. Byzantine Museum - Thessaloniki Greece. Notatki – sztuka bizantyjska « art folie |ärt fôˌli| Terytorium Cesarstwa Rzymskiego w 395 r. - podział na Wschód i Zachód Sztuka bizantyjska (lub bizantyńska) – sztuka chrześcijańska Wschodniego Cesarstwa Rzymskiego (Bizantyńskiego) i kręgu jego oddziaływania.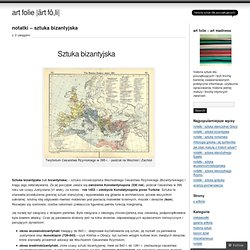 Za jej początek uważa się założenie Konstantynopola (330 rok), podział Cesarstwa w 395 roku lub czasy Justyniana (VI wiek), za koniec - rok 1453 – zdobycie Konstatynopola przez Turków. Sztuka ta stanowiła przedłużenie greckiej sztuki starożytnej i wypowiadała się głównie w architekturze, przede wszystkim sakralnej.
Internet History Sourcebooks. Internet Medieval Sourcebook Selected Sources: Byzantium Contents General WEB Byzantium: The Byzantine Studies Page WEB Dumbarton Oaks Byzantine Collection: Selected Images [At DO] WEB Dumbarton Oaks Byzantine Collection: Slide List of the Dumbarton Oaks Byzantine Collection [At DO] WEB Dumbarton Oaks Electronic Texts [Uses Acrobat] Byzantine, Landscape Architecture and Pre-Columbian etext.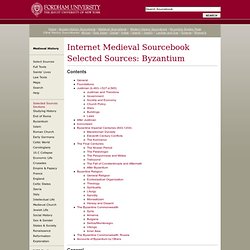 Basilica of Santa Prassede in Rome. Luckily, the efforts of later "restorers" from the 1500s to 1800s have not (with the exception of the visually obstructive Ciborium / Baldacchino) destroyed the basic beauty of the classic Basilica shape built by Pope St Paschal I (?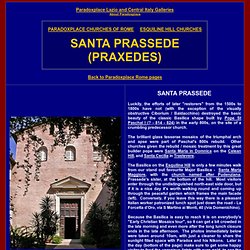 - 814 - 824) in the early 800s, on the site of a crumbling predecessor church. The brilliant glass tesserae mosaics of the triumphal arch and apse were part of Paschal's 800s rebuild. Other churches given the rebuild / mosaic treatment by this great builder pope were Santa Maria in Domnica on the Celean Hill, and Santa Cecilia in Trastevere. The Basilica on the Esquiline Hill is only a few minutes walk from our stand out favourite Major Basilica - Santa Maria Maggiore, with the church named after Pudenziana, Prassede's sister, at the bottom of the hill. Most visitors enter through the undistinguished north-east side door, but if it is a nice day it's worth walking round and coming up through the peaceful garden which frames the main facade (left). Bizancjum10.
---