Survival and Preparedness
Wilderness Survival
Generally speaking, "survival" falls into one of two broad categories: Staying alive until help arrives and you're rescued Living in the wilderness as a way of life
Organic & Heirloom Seeds from Heirloom Organics
A reader has sent this useful list to help prepare for what is coming. Considering how much damage was done to the midwest from tornadoes this past week, everyone should have a safe place to go and be ready - for 'anything' and 'everything'. Obvously, with tornadoes, you can't keep your supplies on the first floor, but basement areas seem to be okay - storm cellars are always a good idea.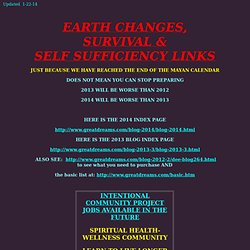 Heirloom Seeds - Best Source To Buy Organic Heirloom Seeds
OKStormShelters.com - Safe Rooms, Storm Shelters, Tornado Shelters, Oklahoma Safe Rooms, Oklahoma Storm Shelters, Oklahoma Tornado Shelters
The Ready Store - Emergency Preparedness, Food Storage, MRE's, and Freeze Dried Food!
Sun Ovens Solar Cooking - Sun Oven, Solar Cooking | SunOven.com
Big Berkey Water Filter | Home Water Filters & Purifiers | Berkley Water Filters | Big Berkey | Berkley Water Filters and Purifiers No Scam
Kerosene Stoves
Shelf Reliance- Food Storage, Emergency Kits and Food Storage Racks
Buy Survival Foods by Mountain House | Long Term Food Storage | Buy Freeze Dried Food & Discount Survival Food
Lehman's Country Life
Friday, Nov 12, 2010 I have watched with some concern as the survival seed business has exploded these past few years. Advertisements abound for survival garden seed buckets that cost upwards of $100 and promise a years supply of food for a family.
Survival Seeds - Advice from an Avid Gardener, by Mrs. W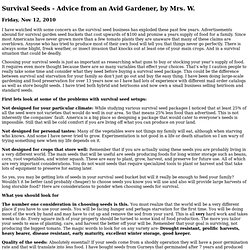 Sustainable Living Homestead, Emergency Preparedness and Wilderness Survival
Preparedness Plus, The Source for Quality
Since the 1973 publication of Storey's first Country Wisdom Bulletin, our commitment to preserving the arts, crafts, and skills of country life has never wavered. We now have more than 200 titles in this series of 32-page publications, and their remarkable popularity reflects the common desire of country and city dwellers alike to cultivate personal independence in everyday life.
Publishing : Country Wisdom Bulletins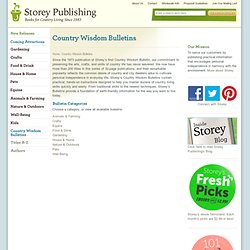 Major Surplus & Survival - Your One Stop Survival Store!
Ready Made Resources Solar Power Disaster Preparedness Store Emergency Supplies
Preparedness Pantry - Food Storage, Emergency Preparedness, Emergency Kits, Water Storage