Survival and Preparedness
Wilderness Survival
Generally speaking, "survival" falls into one of two broad categories: Staying alive until help arrives and you're rescued Living in the wilderness as a way of life The emphasis here is mostly on the second approach, although the two overlap, of course. The first approach would include, for example, how to utilize your vehicle for helping you to stay alive, advice on whether you should try to hike out back to civilization or not, and so on. There's very little of that kind of material here (at least so far).
Organic & Heirloom Seeds from Heirloom Organics
A reader has sent this useful list to help prepare for what is coming. Considering how much damage was done to the midwest from tornadoes this past week, everyone should have a safe place to go and be ready - for 'anything' and 'everything'. Obvously, with tornadoes, you can't keep your supplies on the first floor, but basement areas seem to be okay - storm cellars are always a good idea.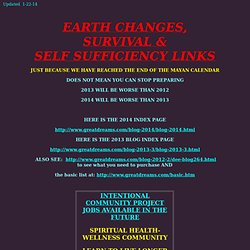 Heirloom Seeds - Best Source To Buy Organic Heirloom Seeds
OKStormShelters.com - Safe Rooms, Storm Shelters, Tornado Shelters, Oklahoma Safe Rooms, Oklahoma Storm Shelters, Oklahoma Tornado Shelters
We are a fully insured and bonded, family-owned and operated business that has been building, delivering and installing storm shelters, right here in the heart of Tornado Alley, for three decades. We made our first storm shelter in 1980 and have been doing it ever since. We take pride in being able to provide you shelter and comfort in extreme weather. We proudly serve and offer free delivery to much of Green Country, specifically the greater Tulsa, Oklahoma area, including, but not limited to, Bartlesville, Bixby, Broken Arrow, Catoosa, Claremore, Collinsville, Coweta, Glenpool, Inola, Jenks, Kellyville, Mannford, Oologah, Okmulgee, Owasso, Sand Springs, Sapulpa, Skiatook, Sperry and Wagoner.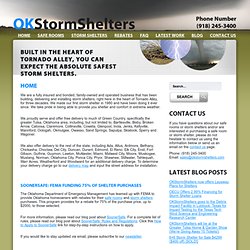 Sun Ovens Solar Cooking - Sun Oven, Solar Cooking | SunOven.com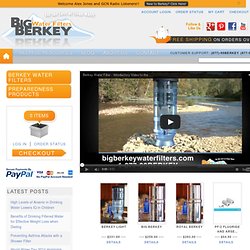 ** Important Notice to California Customers **Find Out Why Some Berkey Filters Cannot Be Shipped to California Comparison Charts - Berkey Filters vs The Competition At BigBerkeyWaterFilters.com, we understand that choosing the right water filter for you and your family can be a daunting task.
Big Berkey Water Filter | Home Water Filters & Purifiers | Berkley Water Filters | Big Berkey | Berkley Water Filters and Purifiers No Scam
Kerosene Stoves
About Thrive Life Thrive Life is your premier source for emergency preparedness supplies and informational tools. Featuring freeze dried foods, food rotation systems (food storage shelves), and our revolutionary calculators for food storage and emergency kits, Thrive Life offers the tools you'll need to create a comprehensive, customized emergency preparedness plan. Food Storage Rotation Food storage management has never been easier thanks to Thrive Life Food Rotation Systems.™ Available in four heights, three widths, and two depths, our food storage shelves were designed to easily store and rotate a large amount of cans. Every system features patented front-loading technology and fits easily into most storage spaces. THRIVE Food Storage THRIVE is a revolutionary food storage product that was developed for incorporation into everyday menu planning.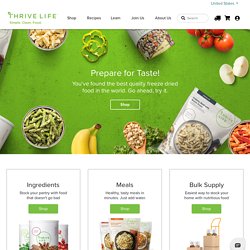 Shelf Reliance- Food Storage, Emergency Kits and Food Storage Racks
The first MRE meals were established during the Revolutionary War consisted of enough food to feed a man for one day, mostly beef, peas, and rice. During World War #1, canned meats were replaced with preserved meats (salted or dried). MRE's saw their big improvement during the Vietnam War. The Military MRE added the MRE heater to warm the MRE food and this became popular with the general public. In 1963, the Department of Defense began developing the MRE "Meal, Ready to Eat", - MREs - a military MRE meal that would rely on modern food preparation and packaging technology to create a lighter replacement for the canned Meal. In 1975, work began on a dehydrated meal stored in a plastic retort pouch (the current MRE).
Buy Survival Foods by Mountain House | Long Term Food Storage | Buy Freeze Dried Food & Discount Survival Food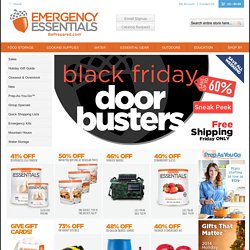 In case something should ever happen to interrupt the food supply to your area, you need to have a food supply stored so you can continue to care for yourself and your family. Here at Emergency Essentials, we focus on getting people ready for disasters – whether it's a natural disaster or a personal, financial, or family crisis. Just as there are different kinds of people, there are different kinds of food storage. We're here to help you find the right food storage solution for your needs.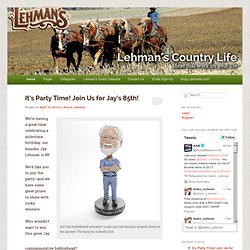 Lehman's Country Life
One of our American Gardeners, Tim, isn't a stranger to Country Life. He's the man behind the title "Prepper Dad", and has shared his common-sense ideas about preparing for emergencies. One of his biggest 'to-do' items is growing and preserving his garden's produce. Last year, he canned and froze hundreds of containers of veggies, fruit and herbs from what he calls "the small garden." He's shared some pictures of that project as he prepares for gardening in 2014. "This has been the longest winter in a long time, I'm telling ya," he says.
Friday, Nov 12, 2010 I have watched with some concern as the survival seed business has exploded these past few years. Advertisements abound for survival garden seed buckets that cost upwards of $100 and promise a years supply of food for a family.
Survival Seeds - Advice from an Avid Gardener, by Mrs. W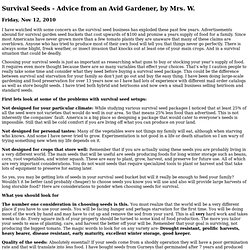 We are very sad to have to announce the sudden and unexpected passing of a great man, Ron Hood on June 22, 2011. Nearly two-thirds of the 1930's Dust Bowl inhabitants hunkered down and lived through a time when there was "no food from the land, no jobs during the Depression, no money from taxpayers. When you have to know you can start a fire when you need one, FireSteel.com FireSteels are the way to go. There is a dark side to "survivalism" that nobody ever talks about. I've never seen it in print.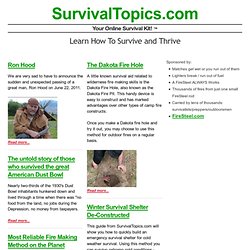 Sustainable Living Homestead, Emergency Preparedness and Wilderness Survival
Preparedness Plus, The Source for Quality
Since the 1973 publication of Storey's first Country Wisdom Bulletin, our commitment to preserving the arts, crafts, and skills of country life has never wavered. We now have more than 200 titles in this series of 32-page publications, and their remarkable popularity reflects the common desire of country and city dwellers alike to cultivate personal independence in everyday life. Storey's Country Wisdom Bulletins contain practical, hands-on instructions designed to help you master dozens of country living skills quickly and easily. From traditional skills to the newest techniques, Storey's Bulletins provide a foundation of earth-friendly information for the way you want to live today. Choose a category, or view all available bulletins.
Publishing : Country Wisdom Bulletins
Major Surplus & Survival - Your One Stop Survival Store!
Ready Made Resources Solar Power Disaster Preparedness Store Emergency Supplies
Preparedness Pantry - Food Storage, Emergency Preparedness, Emergency Kits, Water Storage
I received this guest post submission a couple of weeks ago, and I've been looking forward to sharing it with you ever since. It was submitted by Kate from Missouri, and I have to say, I can't wait to put these recipes to use. I've been making wheat berries since Don Pectol taught me the easiest way to use wheat, and I think I can use the same method to cook some oat groats for these recipes.