TV News
APTN - Associated Press Television News
The Associated Press, on 30 March 2013, became the first international news agency to open a bureau in Myanmar since a reformist government took power two years ago and began relaxing restrictions on the media for the first time in decades. The opening paves the way for AP to expand its coverage of the unfolding transition in Myanmar, which is still emerging from nearly half a century of military rule, for its members and customers around the world. Six multi-format journalists will staff the new AP bureau full time. AP is the leading supplier of entertainment video news footage. We consistently deliver more entertainment video footage than our nearest competitor. ... celebrity news, music, festivals, awards, premieres, exclusive access, sit-down interviews, fashion, theatre, movie news ...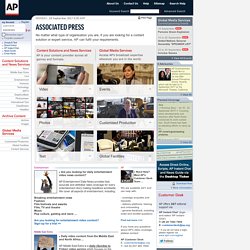 Huge Fire Rips Through Paper Mill William Roache Arrives At Court Raging Bull Elephant Rolls Car Over Baby Doc Guilty Of Trafficking China Doubles High-Speed Network Religious War's Innocent Victims Big Increase In UK Cancer Cases Hollande To Face Press Over Affair Madeleine Detectives Seek Burglars GM Revs Up At Detroit Auto Show Fracking: The Case For The Industry Brutal Birth: Life In A War Zone Lives Of NI Abuse Victims 'Wrecked' Number Of Text Messages Tumbles MPs Splash Tax Cash On Portraits Britain's Big Obesity Problem Grows Scandal Takes Toll On First Lady Angry Protests Over Fracking Plans Madeleine Detectives Seek Burglars Ariel Sharon Laid To Rest Hague Reiterates Syria Commitment Cameron's Fracking Future Protestors Cause Chaos In Bangkok Ireland Chess Killer Cannibal Claim Hollande 'Affair' A Private Matter?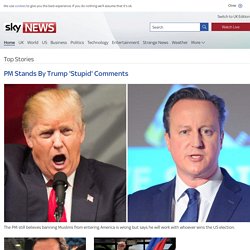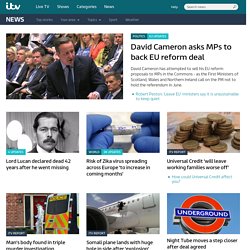 'Around 300' missing after South Korea ferry sinks Maritime police are searching into the night for missing passengers from the ferry which sank in South Korea using flares to aid the search. Read: 'Around 300' missing after South Korea ferry sinks A portrait of Malala Yousafzai, the Pakistani schoolgirl shot by the Taliban for courageously campaigning for girls' education, is to be offered at auction by Christie's. Artist Jonathan Yeo has offered the painting, expected to fetch $60,000-80,000 (£36,000 - £48,000), to benefit the Malala Fund, a charity set up by Malala to support the fight for girls' right to education.
National News