Useful Sites
40 Useful Tutorial Sites-Nurses. When you decide to be a nurse, chances are that you made the decision in order to help people.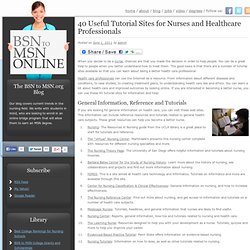 You can be a great help to people when you better understand how to treat them. The good news is that there are a number of tutorial sites available so that you can learn about being a better health care professional. Health care professionals can use the Internet as a resource. From information about different diseases and conditions, to case studies, to creating treatment plans, to understanding health care law and ethics. Evolve. DosamigosRN : Links. S Nursing Center. The Student Nurse Forum. 50- Web Every Nurse Should Bookmark. No matter your nursing education level, or what nursing program you attended, it always helps to have resources on hand to help you improve the level of care you provide your patients.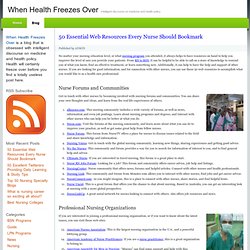 From RN to BSN, it can be helpful to be able to call on a store of knowledge to remind you of what you know, find an effective treatment, or learn something new. Additionally, it can help to have the help and support of other nurses. If you are looking for good information, and for connection with other nurses, you can use these 50 web resources to accomplish what you would like to as a health care professional: Nurse Forums and Communities. 100 Really, REALLY Useful Web Sites for Nurses. Nurses are the caregivers of the world, but who is there to take care of nurses?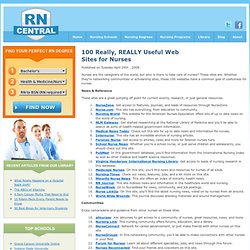 These sites are. Whether they're networking communities or scholarship sites, these 100 websites have a common goal of usefulness for nurses. News & Reference These sites are a great jumping off point for current events, research, or just general resources. 100 Useful Sites for School Nurses. Working with kids can be satisfying.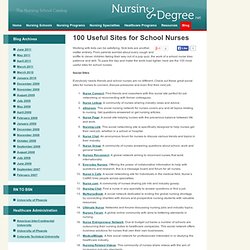 Sick kids are another matter entirely. From parents worried about every cough and sniffle to clever children faking their way out of a pop quiz, the work of a school nurse tries patience and skill. To pass the day and make the work load lighter, here are the 100 most useful sites for school nurses. Social Sites. FREE sites to help you study!! Useful sites for pre-nursing AND nursing. 100 Best Blogs for Nursing Students. No doubt about it, getting through nursing school can be a challenge, especially if you're trying to balance work, school and family life all at once.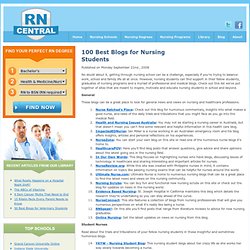 However, nursing students can find support in their fellow students, graduates of nursing programs and a myriad of professional and medical blogs. Check out this list we've put together of sites that are meant to inspire, motivate and educate nursing students in school and beyond.
---