Edu. IPAD
iPad. iTunes U - Learn anything, anywhere, anytime. LiveBinder. 250 best iPad apps: education. 50 Must-Have Educational Apps. It's time for holiday road trips and you know what that means: driving, flying, cranky kids, and… teaching opportunities!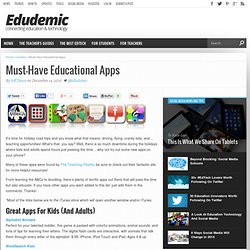 What's that, you say? Well, there is so much downtime during the holidays where kids and adults spend hours just passing the time… why not try out some new apps on your phone? 100+ iPad Apps Perfect For High School. iPads in Education (Updated 09/17/2010) Image Source: Update - You will probably want to read this iPad series, which goes into greater depth!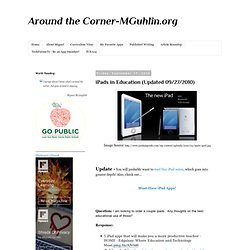 Also, check out...Question:I am looking to order a couple ipads. Any thoughts on the best educational use of those? 100 iPad Tips and Tricks.pdf. MakeUseOf.com. Esu3ipads. Middle School iPad Apps. Create and publish your own wikis and blogs.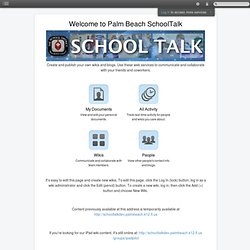 Use these web services to communicate and collaborate with your friends and coworkers. It's easy to edit this page and create new wikis. To edit this page, click the Log In (lock) button, log in as a wiki administrator and click the Edit (pencil) button. To create a new wiki, log in, then click the Add (+) button and choose New Wiki. Content previously available at this address is temporarily available at.
---