Robots Bioinspirés
It was Innorobo 2013 !
It was Innorobo 2013 !
unnamed pearl
festival international du film scientifique - programme
Innorobo - Day 2 - Du côté du public! · Aratta
Feb. 21, 2012 — Seven adult-sized humanoid robots will take the stage during Drexel University's celebration of National Engineers Week, in a first-of-its-kind assembly of robotic technology.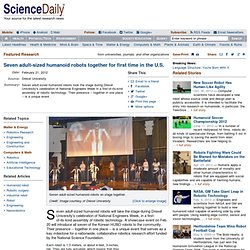 Seven adult-sized humanoid robots together for first time in the U.S.
Festo's Amazing SmartBird
Robot fish accepted by real fish -- assumes leadership role in steering the school : science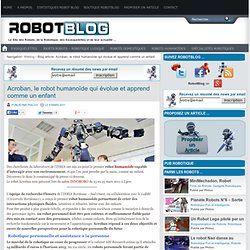 Acroban, le robot humanoïde qui évolue et apprend comme un enfant
Des chercheurs du laboratoire de l'INRIA ont mis au point le premier robot humanoïde capable d'interagir avec son environnement, et que l'on peut prendre par la main, comme un enfant.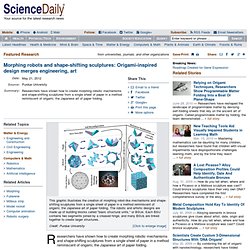 May 21, 2012 — Researchers have shown how to create morphing robotic mechanisms and shape-shifting sculptures from a single sheet of paper in a method reminiscent of origami, the Japanese art of paper folding. The new method, called Kaleidogami, uses computational algorithms and tools to create precisely folded structures.
Morphing robots and shape-shifting sculptures: Origami-inspired design merges engineering, art
A whisker-inspired approach to tactile sensing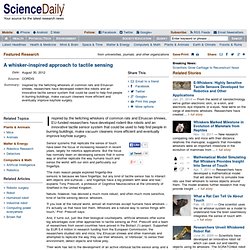 Aug. 30, 2012 — Inspired by the twitching whiskers of common rats and Etruscan shrews, EU-funded researchers have developed rodent-like robots and an innovative tactile sensor system that could be used to help find people in burning buildings, make vacuum cleaners more efficient and eventually improve keyhole surgery.