Keeping it clean (and fresh)
7 things you should make, not buy: Cleaning supplies. Homemade Eco-friendly Cleaners Recipes | Jolly Mom: Recipes | Crafts |... So, this past week I actually used some products that I received to review to do something I HAD to do for my own sanity-get myself organized!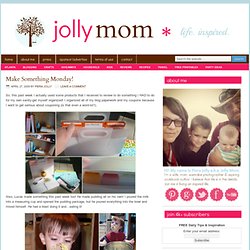 I organized all of my blog paperwork and my coupons because I want to get serious about couponing (is that even a word-lol?). Also, Lucas made something this past week too! He made pudding all on his own! I poured the milk into a measuring cup and opened the pudding package, but he poured everything into the bowl and mixed himself. He had a blast doing it and…eating it! 75 Extraordinary Uses for Baking Soda.
Baking soda is a chemical compound that appears as a fine powder.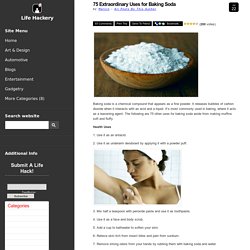 It releases bubbles of carbon dioxide when it interacts with an acid and a liquid. It's most commonly used in baking, where it acts as a leavening agent. The following are 75 other uses for baking soda aside from making muffins soft and fluffy. How to Make a Vanilla Air Freshener. Super Simple Homemade Air Freshener. Baking soda naturally absorbs odours, so why not take advantage of that to create simple, inexpensive air fresheners?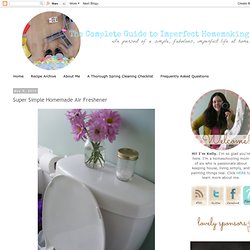 Here's how: Use a hammer and and a nail to poke holes in the lid of a small canning jar. (The heart is a nice touch, but clearly not necessary) Fill the jar about 1/4 full with baking soda Add 6-8 drops of lavender essential oil Put lid on and place in any spot that could use some freshening. Try our Soap Recipes for Making Homemade Soap and easy, no-fail Recipes. HAND-MILLED SOAP MAKING RECIPES for SAGE SOAP Photo by Malene Thyssen Here is a soap that you can rebatch, call your own and here you are making soap without using lye or caustic soda.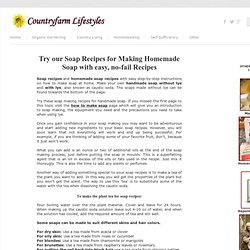 Therefore it is safe, fun and can be used for kids crafts too. Grate 2 cups of your chosen store-bought white soap, or your homemade Castile soap Place grated soap in a heat-resistant glass bowl.
---