Doc Officiel
Struts 2 Tutorial. Struts 2 Interceptors Example In this example you will see how the interceptors are invoked both before and after the execution of the action and how the results are rendered back to the user.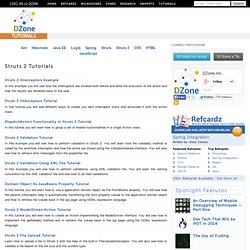 Struts 2 Interceptors Tutorial In this tutorial you will see different ways to create you own interceptor stack and associate it with the action class. Struts 2 Validation Tutorial. Struts 2 + Spring 2 + JPA + AJAX. On this tutorial we will demonstrate how to setup Struts 2 in Eclipse, and make it work with Spring, Java Persistence API (using Hibernate) and Struts 2 Ajax tags.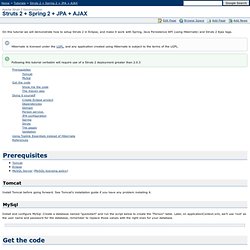 Icon Hibernate is licensed under the LGPL, and any application created using Hibernate is subject to the terms of the LGPL. Following this tutorial verbatim will require use of a Struts 2 deployment greater than 2.0.3 Tomcat Install Tomcat before going forward. Tutorials. Getting Started. Struts - Key Technologies Primer. "The time has come," the Walrus said, "To talk of many things: Of shoes -- and ships -- and sealing-wax -- Of cabbages -- and kings -- And why the sea is boiling hot -- And whether pigs have wings.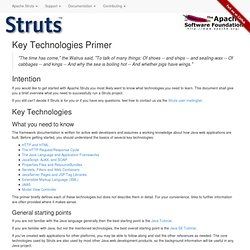 " Intention If you would like to get started with Apache Struts you most likely want to know what technologies you need to learn. This document shall give you a brief overview what you need to successfully run a Struts project. If you still can't decide if Struts is for you or if you have any questions, feel free to contact us via the Struts user mailinglist. Key Technologies.
---