My Fav Recipes
Indian Recipes : Recipes from India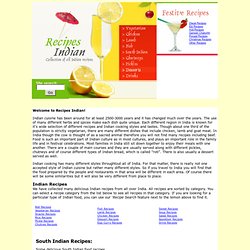 Welcome to Recipes Indian! Indian cuisine has been around for at least 2500-3000 years and it has changed much over the years. The use of many different herbs and spices make each dish quite unique.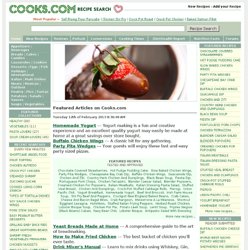 Featured Articles on Cooks.com Saving Money in the Kitchen –– You've heard, over the past years, of "30 Minute Meals" (or less), home cooking with nearly-home made style prepackaged and pre-processed foods ... Casserole Soup Mix –– Use this BPA free, lower sodium and budget friendly recipe to make your favorite casserole healthier and more economical. How to Make an Italian Easter Pie –– This recipe for Pizzagaina has been a treasured favorite in our family for many generations. Tsoureki - Greek Easter Bread –– Tsoureki is a traditional Greek Bread served at the Easter meal flavored with overtones of orange and anise.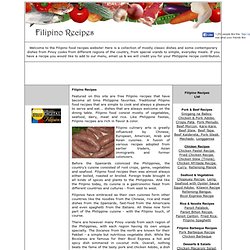 Featured on this site are free Filipino recipes that have become all time Philippine favorites. Traditional Filipino food recipes that are simple to cook and always a pleasure to serve and eat... dishes that are always welcome on the dining table. Filipino food consist mostly of vegetables, seafood, dairy, meat and rice. Like Philippine fiestas, Filipino recipes are rich in flavor & color. Filipino culinary arts is greatly influenced by Chinese, European, American, Arab and Asian cuisines. A fusion of various recipes adopted from earlier traders, Asian immigrants and former colonizers.
Filipino Recipes - Free Filipino Food Recipe
Chicken Recipes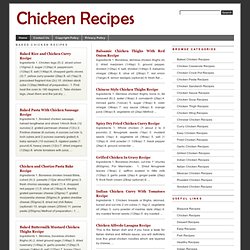 Baked Chicken Recipes Baked Rice and Chicken Curry Recipe Ingredients 1.