Useful
How Do I Prevent Eyestrain at My Computer?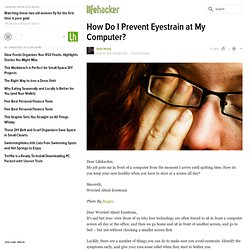 Dear Lifehacker, My job puts me in front of a computer from the moment I arrive until quitting time. How do you keep your eyes healthy when you have to stare at a screen all day? Sincerely, Worried About Eyestrain Photo By jhayne. Dear Worried About Eyestrain, It's sad but true: even those of us who love technology are often forced to sit in front a computer screen all day at the office, and then we go home and sit in front of another screen, and go to bed – but not without checking a smaller screen first. Luckily, there are a number of things you can do to make sure you avoid eyestrain: Identify the symptoms early, and give your eyes some relief when they start to bother you.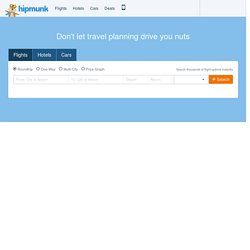 Hipmunk has an iOS app. Get it from iTunes » no thanks Hipmunk has an Android app. Get it from Google Play » The fastest, easiest way to plan travel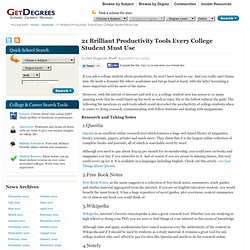 If you ask a college student about productivity, he won't have much to say. And you really can't blame him. He leads a dynamic life where academics and fun go hand in hand, with the latter becoming a more important activity most of the times.
For millions of people Google is an indispensable search tool that they use every day, in all facets of their lives. From work or school, research, to looking up movies and celebrities to news and gossip, Google is the go-to search engine. But instead of just typing in a phrase and wading through page after page of results, there are a number of ways to make your searches more efficient.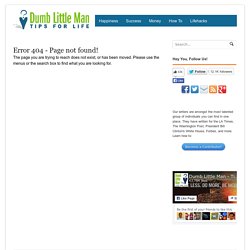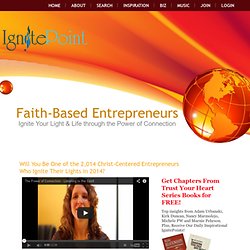 Search Our Ideal Partner Matching System for FREE! Are you looking for a thought leader to be a speaker for your next live or virtual event or telesummit? Are you interested in finding relevant guest bloggers, affiliates or joint venture partners? Search our Ideal Partner Matching System, which not only lists thought leaders and experts by topic and subject category, but also enables you to search by factors that make them an ideal match for your specific audience and ideal collaborative partners for you.
Free Sample Marketing Plans and Marketing Plan Software - Mplans.com
How to Write a Press Release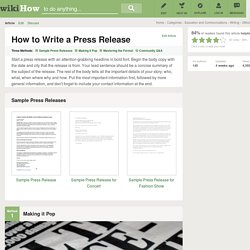 Edit Article Sample Press ReleasesMaking it PopMastering the Format Edited by newsmotto.com, Tom Viren, Jack Herrick, Len Pal and 105 others A press release is a written statement to the media.
" It's a way our clients can get to know us and see our culture without physically visiting the store. I couldn't believe I got the site up and running over one weekend." " I have been an entrepreneur for many, years, but suddenly my art licensing is really coming together and I need to have a simple, bold statement about my art.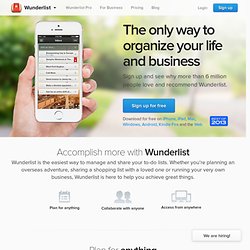 Recurring to-dos Capture your daily, weekly and monthly to-dos. Subtasks Break big tasks intosmaller achievable goals.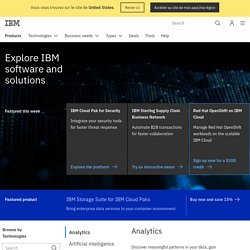 Try out the newest version of IBM Many Eyes! New site design and layout Find visualization by category and industry New visualization expertise and thought leadership section
Företagande- Hur öppnar man en webbutik och tips | Tyra Sjöstedt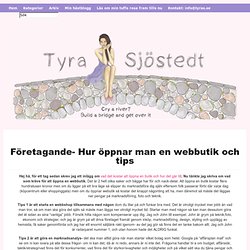 Hej hå, för ett tag sedan skrev jag ett inlägg om vad det kostar att öppna en butik och hur det går till. Nu tänkte jag skriva om vad som krävs för att öppna en webbutik. Det är 2 helt olika saker och bägge har för och nack-delar. Att öppna en butik kostar flera hundratusen kronor men om du ligger på ett bra läge så slipper du marknadsföra dig själv eftersom folk passerar förbi där varje dag (köpcentrum eller shoppinggata) men om du öppnar webutik så kostar det knappt någonting att ha, men däremot så måste det läggas ner pengar på marknadsföring, foto och teknik. Tips 1 är att starta en webbshop tillsammans med någon dom du litar på och funkar bra med.
Four tips to publicize your own industry articles. Ever heard of article marketing? It's a type of content marketing in which businesses write short articles related to their respective industries and make them available for distribution and publication in the marketplace. Each article contains a bio box and byline that includes references and contact information for the author's business.
Four Tips for Making Your Content Marketing Go Viral