Internet
9 Reasons Pinterest Is Actually Bad for You
Unless you've been living under a rock for the past few months, odds are pretty good that you've heard of this little thing called Pinterest. The hit social sharing service has raked in about 10.4 million active users, making it one of the fastest-growing social sites of all time. But even with all the hype, many people are saying "no" to pinning and here are nine good reasons why. (Photo source: Pinterest)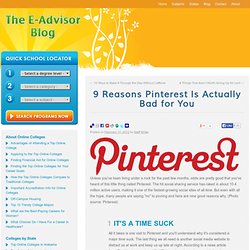 The State of OpenCourseWare
Businesspeople and job seekers worldwide know the value of LinkedIn, a website where people can come together to network, discuss, and share resources. But academic professionals can greatly benefit from LinkedIn as well, and groups on the site offer a great opportunity for collaboration, discussion, and sharing between academics. There are so many academic groups available on LinkedIn, we can't possibly list them all, but these 50 are a great place to start.
50 Great LinkedIn Groups for Academics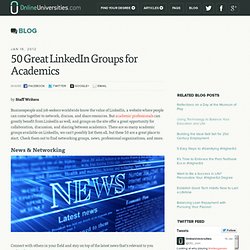 Three hundred million users, one billion tweets each week, and three thousand tweets per second. This thing called Twitter is blowing up. It's been five years since Jack Dorsey released the blue bird of social connectedness onto the scene, but it's only been fairly recently that tweeting has caught fire. The soaring popularity of the microblogging service has attracted the attention of researchers who have come up with some pretty rad data through fascinating studies like these.
15 Fascinating Academic Studies Done on Twitter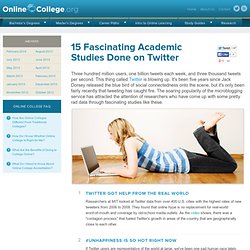 50 Business Professors You Should Follow on Twitter
College professors are not all old, stuffy windbags. Many of them are youngish professionals who are embracing social media as a way to interact with students and colleagues and keep up with trends in their fields. Here are 50 business profs with Twitter feeds worth following.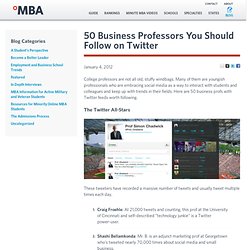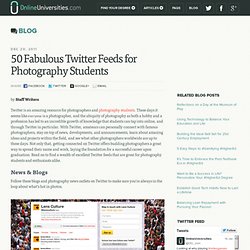 Twitter is an amazing resource for photographers and photography students. These days it seems like everyone is a photographer, and the ubiquity of photography as both a hobby and a profession has led to an incredible growth of knowledge that students can tap into online, and through Twitter in particular. With Twitter, amateurs can personally connect with famous photographers, stay on top of news, developments, and announcements, learn about amazing ideas and projects within the field, and see what other photographers worldwide are up to these days. Not only that, getting connected on Twitter offers budding photographers a great way to spread their name and work, laying the foundation for a successful career upon graduation. Read on to find a wealth of excellent Twitter feeds that are great for photography students and enthusiasts alike. News & Blogs
50 Fabulous Twitter Feeds for Photography Students
Behind SOPA: What It Means for Business and Innovation