Dieter Rams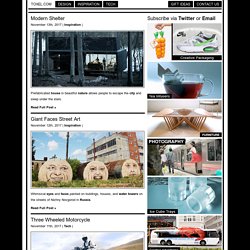 Sparkling Table January 16th, 2014 | Inspiration | Bullets Cut in Half January 15th, 2014 | Tech | Disappearing Bed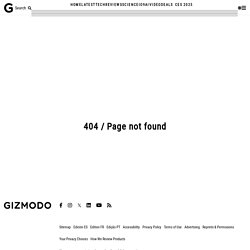 could someone, in sincerity, explain how apple is the only one allowed to 'take inspiration'? it seems that wherever apple has trod, all others are copycats and guilty of infringement. i understand the issue of patents and patent law (as screwball as that may be currently - each company is exploiting it equally), but i don't follow the logic that apple is the epitome, the peak of design, which other companies must not even approach. for instance, let's say the sentence read: Ive's designs for Apple hold all the clues not only for past and present technological products, but their future as well would not this be a better situation? microsoft took the idea of a gui (which apple itself copied), htc took the idea of the iphone and reformed it just slightly, doubletwist copied itunes, android borrowed from linux, apple took from nokia ...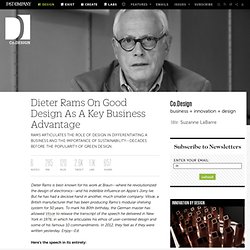 Dieter Rams is best-known for his work at Braun--where he revolutionized the design of electronics--and his indelible influence on Apple's Jony Ive. But he has had a decisive hand in another, much smaller company: Vitsœ, a British manufacturer that has been producing Rams's modular shelving system for 50 years. To mark his 80th birthday, the German master has allowed Vitsœ to release the transcript of the speech he delivered in New York in 1976, in which he articulates his ethos of user-centered design and some of his famous 10 commandments.
The winner of the Design Museum's inaugural Designer of the Year award in 2003 was JONATHAN IVE (1967-), senior vice-president of design at Apple whose innovations include the iPod, iMac, iPhone and iPad. As senior vice-president of design at Apple, Jonathan Ive has combined what he describes as "fanatical care beyond the obvious stuff? with relentless experiments into new tools, materials and production processes, to design such ground-breaking products as the iMAC, iBook, the PowerBook G4 and the iPod MP3 player. He won the Design Museum's first Designer of the Year prize for the 2002 iMac and iPod.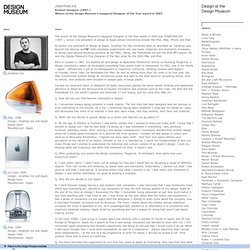 Contemporary, modern, classic and original furniture, lighting, home accessories and gifts from Europe's leading manufacturers. on Utility Design website
MIO - Green Design For Everyone