Dieter Rams
Design Ideas and Tech Concepts - Toxel.com. 1960s Braun Products Hold the Secrets to Apple's Future. Dieter Rams On Good Design As A Key Business Advantage. Dieter Rams is best-known for his work at Braun--where he revolutionized the design of electronics--and his indelible influence on Apple's Jony Ive.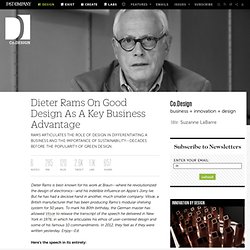 But he has had a decisive hand in another, much smaller company: Vitsœ, a British manufacturer that has been producing Rams's modular shelving system for 50 years. To mark his 80th birthday, the German master has allowed Vitsœ to release the transcript of the speech he delivered in New York in 1976, in which he articulates his ethos of user-centered design and some of his famous 10 commandments. Jonathan Ive Interview (original video) Jonathan Ive / 25/25 - Celebrating 25 Years of Design. The winner of the Design Museum's inaugural Designer of the Year award in 2003 was JONATHAN IVE (1967-), senior vice-president of design at Apple whose innovations include the iPod, iMac, iPhone and iPad.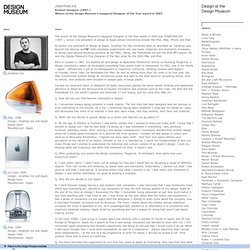 As senior vice-president of design at Apple, Jonathan Ive has combined what he describes as "fanatical care beyond the obvious stuff? With relentless experiments into new tools, materials and production processes, to design such ground-breaking products as the iMAC, iBook, the PowerBook G4 and the iPod MP3 player. He won the Design Museum's first Designer of the Year prize for the 2002 iMac and iPod. Jonathan Ive lead designer for Apple (iPod Mac iPhone Air Ipad) Contemporary, modern, classic and original furniture, lighting, home accessories and gifts from Europe's leading manufacturers. on Utility Design website.
MIO - Green Design For Everyone. Bartlett55. Product similarities. Jonathan Ive Interview (original video)
---