Learn
Quote by Theodore I. Rubin: "I must learn to love the fool in me--the one who f..."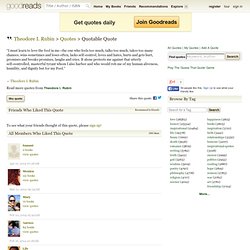 tour sign in Home My Books Friends Recommendations
Zidbits - Learn something new every day!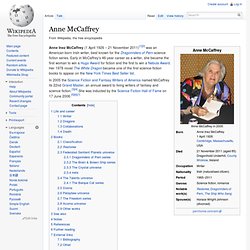 Anne McCaffrey
Anne Inez McCaffrey (1 April 1926 – 21 November 2011) [ 1 ] [ 2 ] was an American -born Irish writer, best known for the Dragonriders of Pern science fiction series. During McCaffrey's 46-year career, she won the Hugo Award and was the first female recipient of the Nebula Award . [ 3 ] Her novel The White Dragon became one of the first science-fiction books to appear on the New York Times Best Seller list . In 2005 the Science Fiction Writers of America named McCaffrey its 22nd Grand Master , an annual award to living writers of fantasy and science fiction. [ 4 ] She was inducted by the Science Fiction Hall of Fame on 17 June 2006. [ 3 ] [ 5 ] [ 6 ] [ edit ] Life and career Anne Inez McCaffrey was born in Cambridge, Massachusetts, the second of three children of Anne Dorothy (née McElroy) and Col.