Learn
Quote by Theodore I. Rubin: "I must learn to love the fool in me--the one who f..." Politics Venezuela's Unending Ordeal Rodrigo Pardo Venezuela's Unending Ordeal
Gabby Giffords and Mark Kelly Be passionate. Be courageous. Be your best. On January 8, 2011, Congresswoman Gabby Giffords was shot in the head while meeting constituents in her home town of Tucson, Arizona.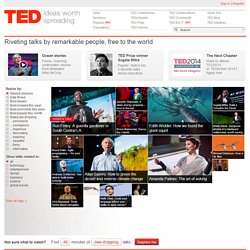 Zidbits - Learn something new every day!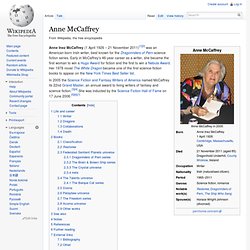 Anne McCaffrey
Anne Inez McCaffrey (1 April 1926 – 21 November 2011)[1][2] was an American-born Irish writer, best known for the Dragonriders of Pern science fiction series. Early in McCaffrey's 46-year career as a writer, she became the first woman to win a Hugo Award for fiction and the first to win a Nebula Award. Her 1978 novel The White Dragon became one of the first science-fiction books to appear on the New York Times Best Seller list. In 2005 the Science Fiction and Fantasy Writers of America named McCaffrey its 22nd Grand Master, an annual award to living writers of fantasy and science fiction.[3][4] She was inducted by the Science Fiction Hall of Fame on 17 June 2006.[5][6][7] Life and career[edit]