Learn
Quote by Theodore I. Rubin: "I must learn to love the fool in me--the one who f..." World Affairs 1914 Revisited? Joseph S. Nye
Melinda Gates and Bill Gates Why giving away our wealth has been the most satisfying thing we've done In 1993, Bill and Melinda Gates—then engaged—took a walk on a beach in Zanzibar, and made a bold decision on how they would make sure that their wealth from Microsoft went back into society. In a conversation with Chris Anderson, the couple talks about their work at the Bill & Melinda Gates Foundation, as well as about their marriage, their children, their failures and the satisfaction of giving most of their wealth away.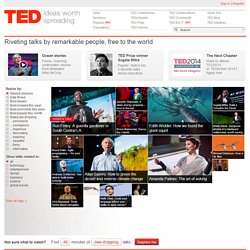 Zidbits - Learn something new every day!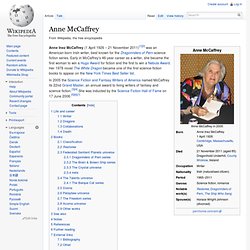 Anne McCaffrey
Anne Inez McCaffrey (1 April 1926 – 21 November 2011)[1][2] was an American-born Irish writer, best known for the Dragonriders of Pern science fiction series. Early in McCaffrey's 46-year career as a writer, she became the first woman to win a Hugo Award for fiction and the first to win a Nebula Award. Her 1978 novel The White Dragon became one of the first science-fiction books to appear on the New York Times Best Seller list. In 2005 the Science Fiction and Fantasy Writers of America named McCaffrey its 22nd Grand Master, an annual award to living writers of fantasy and science fiction.[3][4] She was inducted by the Science Fiction Hall of Fame on 17 June 2006.[5][6][7] Life and career[edit]