Food
Get flash to fully experience Pearltrees
Cook to Perfection When cooking, do you get frustrated trying to measure out a precise "dash" or "pinch" of an ingredient? Are you not satisfied until you're sure your celery has been "minced", rather than just "diced"? Well, it's time to let your inner obsessive loose in the kitchen, with this precision cutting board.
They are probably the best Oreo cakes I have ever tried. A lot of cake's that I have experimented with before are like a vanilla cake with bits of Oreo in them, which didn't really give them enough Oreo flavor. But these were a lot better. I used a dark chocolate fudge cake mix instead of just a regular chocolate cake mix, which went really well with the cookies and gave the cakes just a little more flavor. So, in this recipe there is Oreo's in the cake, in the frosting, and at the bottom is a Oreo surprise. That's right, you put a whole Oreo at the bottom of the cake.
I watched my Grandmother's face when she realized that I hadn't handed her a hard boiled egg but rather a cake baked inside a real egg shell. Her eyes were filled with wonder and I could envision what she must have looked like as a tyke the very first time she saw a red balloon float across the sky or the the trunk of a giant elephant spewing a stream of water. "Crack it on the table," I told her. Eggs were cracked, cupcakes were eaten, and I was perceived as a cupcake Houdini.
I'm meeting a new friend for lunch today. And an old friend for line-dancing tonight. And I'm feeling rather spoiled about it all. I mean, moms shouldn't have TWO social events on the calendar for the same day, should we?
I love all things made with Frank's Red Hot (or any hot sauce, really. But especially Frank's Red Hot) I also love cheese. And crescent rolls. And ranch dressing. So this recipe? Is basically my dream come true.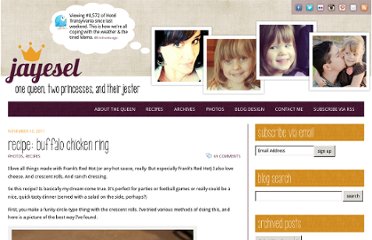 Last weekend a friend I decided to neglect our school work and go for a hike in the snow followed by dinner and a movie at my house. I had all the ingredients on hand for some tasty Corn and Cheese Chowder which was perfect way to warm up after a cold hike. My friend said she'd be in charge of bringing ingredients for us to make dessert and I was so excited to see that she'd picked out these truffles!