Jack rabbit 1
CLI Companion is an application that is used as a compliment to the Terminal. People unfamiliar with the Terminal will find CLI Companion a useful way to become acquainted with the Terminal and its many uses. Using the built-in commands new users can unlock the potential of the Terminal.
clicompanion
HUGE PHOTO: The Most Absurd Home Office Setup On The Planet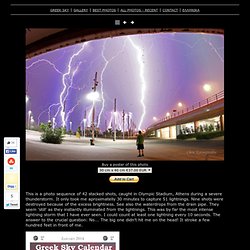 This is a photo sequence of 42 stacked shots, caught in Olympic Stadium, Athens during a severe thunderstorm. It only took me aproximatelly 30 minutes to capture 51 lightnings. Nine shots were destroyed because of the excess brightness. See also the waterdrops from the drain pipe. They seem 'still' as they instlantly illuminated from the lightnings.
Happy Signs 7