Travel
25 Great Travel Sites & Tools To Check Before You Go On Vacation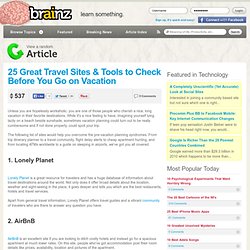 Unless you are hopelessly workaholic, you are one of those people who cherish a nice, long vacation in their favorite destinations. While it's a nice feeling to have, imagining yourself lying lazily on a beach beside sunshade, sometimes vacation planning could turn out to be really cumbersome and if not done properly, could spoil your trip. The following list of sites would help you overcome the pre-vacation planning syndromes. From trip itinerary planner to a travel community, flight delay alerts to cheap apartment hunting, and from locating ATMs worldwide to a guide on sleeping in airports, we've got you all covered. 1. Lonely Planet
So you've decided to do it. You have a friend or family member who can store your belongings for an undetermined period of time, you've tied up loose ends, and your bags are packed. It's time to start traveling long term! But now what? You have a few family members and distant friends who have offered up a couch if you're in their neck of the woods, but surely they won't appreciate your arrival on their doorstep with no planned departure date in sight. How then, do you travel long term and not run out of money?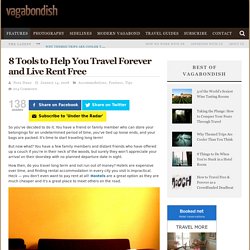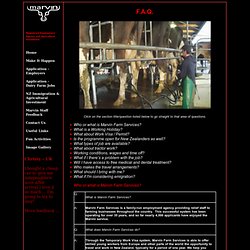 Click on the section title/question listed below to go straight to that area of questions. Who or what is Marvin Farm Services? What is a Working Holiday? What about Work Visa / Permit?
F.A.Q. Farming Jobs New Zealand working holidays NZ employment
A Marvin Farm Services Working Holiday is the very best way for young people interested in farming to experience the real New Zealand. See the breathtaking scenery, meet the fantastic people and enjoy the adventure – all whilst gaining valuable knowledge and understanding of the New Zealand's world-renowned farming methods. If you want to benefit from hands-on experience working on New Zealand farms alongside New Zealand farmers, and understand the value of joining a reputable company with many years experience and thousands of happy staff, then contact us now to find out how to make it happen!
Farming positions New Zealand working holidays NZ employment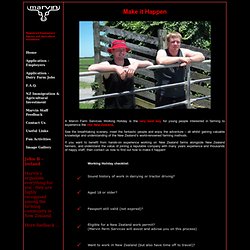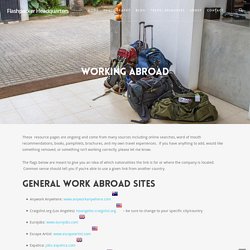 These resource pages are ongoing and come from many sources including online searches, word of mouth recommendations, books, pamphlets, brochures, and my own travel experiences. If you have anything to add, would like something removed, or something isn't working correctly, please let me know. The flags below are meant to give you an idea of which nationalities the link is for or where the company is located. Common sense should tell you if you're able to use a given link from another country. General Work Abroad Sites: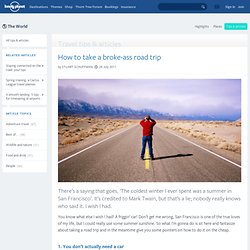 There's a saying that goes, 'The coldest winter I ever spent was a summer in San Francisco'. It's credited to Mark Twain, but that's a lie; nobody really knows who said it. I wish I had. You know what else I wish I had? A friggin' car! Don't get me wrong, San Francisco is one of the true loves of my life, but I could really use some summer sunshine.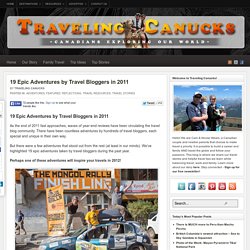 19 Epic Adventures by Travel Bloggers in 2011 As the end of 2011 fast approaches, waves of year-end reviews have been circulating the travel blog community. There have been countless adventures by hundreds of travel bloggers, each special and unique in their own way. But there were a few adventures that stood out from the rest (at least in our minds). We've highlighted 19 epic adventures taken by travel bloggers during the past year. Perhaps one of these adventures will inspire your travels in 2012!
19 Epic Adventures by Travel Bloggers in 2011
City in a Minute: San Francisco
Things I Love (and Hate) About New Zealand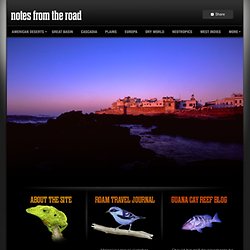 Imagine that you're careening through the city on an old bus, and you find a notebook wedged in the corner of the seat. Open it up. Dusty sketches of swampy backwaters, photographs of foreign lands, illustrations of exotic foods. No destination reviews, no top 10 lists and no industry guest posts. It appears to be written merely for the joy of curious explorers and travelers. This was the reason I set out to create Notes from the Road in 1999.If you enjoy reading about travel, dive in: Notes from the Road rewards readers who enjoy digging deep and exploring even while surfing the web.
If you thinking of traveling or need some encouragement, here is the ultimate list of inspirational travel quotes! "For my part, I travel not to go anywhere, but to go. I travel for travel's sake.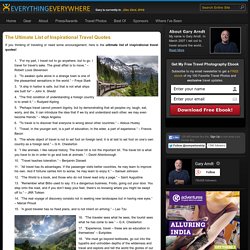 The Ultimate List of Inspirational Travel Quotes
Actually, it's an iPod Nano, an iPhone, a Blackberry, and an iPad and a camera. You could also put those things in your car along with 8 identical electric drills. Doing so is optional. You're right. The iPod Touch and the iPad are exactly the same. That 6.5" difference is utterly meaningless.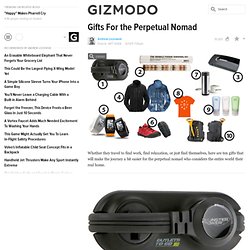 Gifts For the Perpetual Nomad
Gift Guide: Tech for Travel
We are constantly trying to inspire people around the world to travel and see what is beyond day to day life. We don't see ourselves as any sort of heroes because we travel, but we do try and share our adventures as much as possible, in the hope that we may have inspired one person to travel the world! We have been inspired by so many other websites and we wanted to share them with you so you can also benefit like we have from there travels. We are generally inspired by other people, art and photography.
Inspiring Websites About Travel
Planning a Trip to Europe: Your 10-Step Guide | The Independent Traveler
Before you can experience authentic Spanish tapas, piazzas in Rome or rooftop terraces in Prague, an important to-do list stands between you and your European vacation. The logistics involved in planning a Europe trip may seem tedious or overwhelming, but the more prepared you are, the greater your chances of a successful trip that lives up to your expectations. That's why it's important to do a bang-up job creating an itinerary, arranging transportation and tackling the brass tacks before you're off to the Continent. The following simple steps will help you engineer a well-planned escape to Europe -- so you can spend less time worrying about your travel arrangements and more time staring at pictures of castles and men in kilts. If you don't have a passport, it will take four to six weeks from the time of application for you to receive one.
How to Choose an Air Travel Search Site By SETH KUGEL Finding the best site to suit your specific budget, needs and preferences can be tricky. Here's the Frugal Traveler's guide to selecting the right site at the right time. January 15, 2014, Wednesday Tips for Travel Savings in 2014
"Twenty years from now you will be more disappointed by the things that you didn't do than by the ones you did do. So throw off the bowlines. Sail away from the safe harbor.
It's the ultimate trip: circumnavigating the planet, and stopping off wherever takes your fancy. Great for travellers who want to see it all, or who are just plain indecisive. But booking a round-the-world (RTW) trip can be a complex business. Here's our guide to getting started. How to do it The most economical way to circumnavigate is to buy a round-the-world air ticket that uses one airline alliance.
Use Doritos (or Other Chips) to Start a Fire
366292_1253279862_large.jpg (JPEG Image, 1127x1626 pixels) - Scaled (55
ROAD-TRIPPING IN THE ARCTIC CIRCLE | More Intelligent Life
How to Be Jason Bourne: Multiple Passports, Swiss Banking, and Crossing Bor...
How to Budget for a Trip Around the World | Traveling Canucks