SMFilm
Jackiedresch › Log In. Free Hashtag Report. Broadcast Yourself. Teaching Team #SMFilm @laurengeniviva @lshahmoon @JackieDresc. Capitol Couture. Forest Whitaker On Social Media, The Future Of Film & His New Venture, Juntobox Films. Over the weekend, Shira Lazar of What's Trending sat down with Forest Whitaker in the SXSW Samsung Blogger Lounge to talk about Juntoboxfilms.com—the collaborative film studio that makes filmmaking social that just named Whitaker as their co-chair.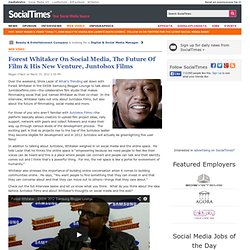 In the interview, Whitaker talks not only about Juntobox Films, but also about the future of filmmaking, social media and more. For those of you who aren't familiar with Juntobox Films—the platform basically allows creators to upload film project ideas, rally support, network with peers and collect followers and make their way up through various levels of the development process. The exciting part is that as projects rise to the top of the Juntobox ladder they become eligible for development and in 2012 Juntobox will actually be greenlighting five user films!
In addition to talking about Juntobox, Whitaker weighed in on social media and the online space. Social Media Supports 'Hunger Games' More Than 'Twilight,' Less Than 'Potter' [CHARTS] Social media users are more positive about the upcoming Hunger Games movie than they were about the final installment of Harry Potter, but not quite as stoked as they were for the first Twilight: Breaking Dawn film.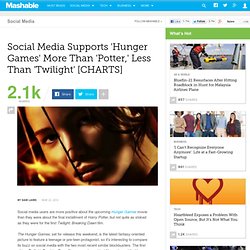 The Hunger Games, set for release this weekend, is the latest fantasy-oriented picture to feature a teenage or pre-teen protagonist, so it's interesting to compare its buzz on social media with the two most recent similar blockbusters. The first of two Twilight: Breaking Dawn films was released last November, while Harry Potter and the Deathly Hallows Part 2 debuted in July. How a Startup Powered Hunger Games Into A Global Social Phenomenon - A Money Machine. Five Lessons Marketers Can Learn from The Hunger Games. The Hunger Games: Using Social Media Marketing to Bring Fiction to Life. The Hunger Games, an overnight sensation in young adult literature, is only a few days away from its theatrical debut and is already making a splash in digital marketing.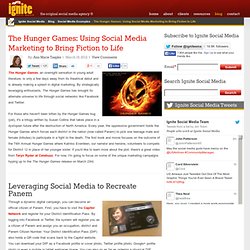 By strategically leveraging enthusiasts, The Hunger Games has brought its alternate universe to life through social networks like Facebook and Twitter. For those who haven't been bitten by the Hunger Games bug (yet), it's a trilogy written by Susan Collins that takes place in a dystopian future after the destruction of North America. Every year, the oppressive government holds the Hunger Games which forces each district in the nation (now called Panem) to pick one teenage male and female (tributes) to participate in a fight to the death.
The first book and movie focuses on the outcome of the 74th Annual Hunger Games where Katniss Everdeen, our narrator and heroine, volunteers to compete for District 12 in place of her younger sister.
---