iPhone
icommephoto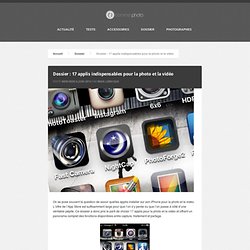 On se pose souvent la question de savoir quelles applis installer sur son iPhone pour la photo et la vidéo. L'offre de l'App Store est suffisamment large pour que l'on s'y perde ou que l'on passe à côté d'une véritable pépite. Ce dossier a donc pris le parti de choisir 17 applis pour la photo et la vidéo et offrant un panorama complet des fonctions disponibles entre capture, traitement et partage. 17 applications indispensables pour la photo et la vidéo Avant de commencer, voici comment nous avons procédé. Pour se fixer une limite du nombre d'applis, le challenge a été de les faire tenir sur un seul écran d'iPhone, soit 16 applis principales, plus une dernière en remplacement de l'appareil photo par défaut, dans la barre de lancement rapide en bas de l'écran.
17 applis indispensables pour la photo et la vidéo
Arqball Spin
iPhoneArt.com - A gallery. A workshop. A community of artists.
Description Magic Hour is an app that can transform your ordinary photos to extraordinary ones. It will give you a fun experience you've never had.
Magic Hour - Camera & Unlimited Filter pour iPhone 3GS, iPhone 4, iPhone 4S, iPod touch (4e génération), iPad 2 Wi-Fi, iPad 2 Wi-Fi + 3G, iPad (3rd generation) et iPad Wi-Fi + 4G dans l'App Store d'iTunes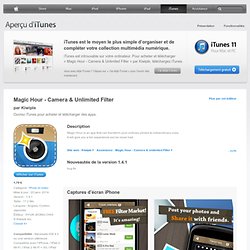 » Test : Magic Hour, vers l'infini et au-delà ! icommephoto
C'est une tendance actuelle que de permettre aux utilisateurs de profiter d'une infinité de filtres, partagés via un réseau social dédié. Après l'intéressante Filter Mania, dérivée de Dropico, c'est au tour de Magic Hour de nous proposer un accès à un nombre illimité de filtres… Ce « détail » mis à part, Magic Hour est une application réussie, parfaitement bien pensée jusque dans ses moindres détails, de la page d'accueil à la gestion des filtres.