Microsoft
Get flash to fully experience Pearltrees
Microsoft's headquarters in Redmond , Washington Microsoft Corporation ( NASDAQ : MSFT , NYSE : MSFT ) is an American public multinational corporation headquartered in Redmond , Washington, USA that develops, manufactures, licenses, and supports a wide range of products and services predominantly related to computing through its various product divisions. Established on April 4, 1975 to develop and sell BASIC interpreters for the Altair 8800 , Microsoft rose to dominate the home computer operating system market with MS-DOS in the mid-1980s, followed by the Microsoft Windows line of operating systems.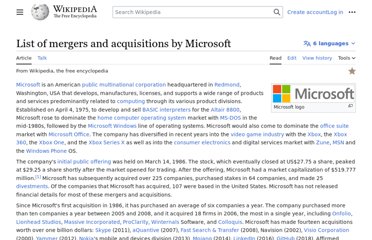 Microsoft (NASDAQ:MSFT) Bing's search market share in the U.S. is expanding and currently stands at 14.7% according to research firm ComScore, driven by increasing number of searches conducted online particularly through use of mobile phones. [] But the same cannot be said about its revenue per search (RPS) which is still a cause for concern for Microsoft. Notably Yahoo (NASDAQ:YHOO) and Microsoft entered into a search advertising partnership in 2009 to boost their search revenues. Yahoo's ads are powered by Microsoft's adCenter platform, which has had consistent technical issues and has resulted in lower RPS for both companies.
Today, after the closing bell, Microsoft answered an oft-asked question: What would the quarter be with no new major products in the pipeline? Would Windows 7 and Windows Server R2 (released October 2009) and Office 2010 (released May 2010) provide enough sales tailwinds? For fiscal 2011 third quarter, ended March 31, Microsoft's revenue rose 13 percent to $16.43 billion, year over year.