Facebook
List of acquisitions by Facebook. Facebook is a social networking company.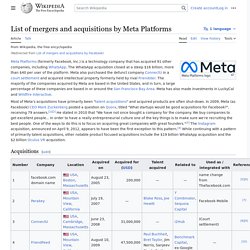 Each acquisition is for the respective company in its entirety, unless otherwise specified. The acquisition date listed is the date of the agreement between Facebook and the subject of the acquisition. The value of each acquisition is listed in US dollars because Facebook's headquarters is in the United States. If the Facebook service that is derived from the acquired company is known, then it is also listed here. Facebook has acquired 10 companies with its largest acquisition being the purchase of WhatsApp, paying more than $40 per WhatsApp user. Facebook. Facebook is the world's largest social network, with over 1.15 billion monthly active users.
Facebook was founded by Mark Zuckerberg in February 2004, initially as an exclusive network for Harvard students. It was a huge hit: in 2 weeks, half of the schools in the Boston area began demanding a Facebook network. Zuckerberg immediately recruited his friends Dustin Moskovitz, Chris Hughes, and Eduardo Saverin to help build Facebook, and within four months, Facebook added 30 more college networks. Facebook Raises $500 Million in Funding, Now Worth $50 Billion [REPORT] Facebook has received a massive new round of funding: $450 million from Goldman Sachs and $50 million from Russian investment firm Digital Sky Technologies, according to a new report.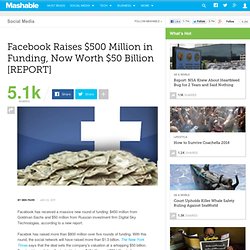 Facebok has raised more than $800 million over five rounds of funding. With this round, the social network will have raised more than $1.3 billion. The New York Times says that the deal sets the company's valuation at a whopping $50 billion. Facebook's worth has fluctuated between $40 billion and $50 billion in the secondary markets for the past few weeks. In September, Facebook was worth between $23 billion and $33 billion and in November it was worth $41 billion. Facebook to double revenue to $4.27 billion, 89% is from ads. Facebook's advertising revenue is estimated to rise 104 percent this year to $3.8 billion.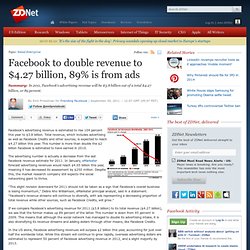 Total revenue, which includes advertising as well as Facebook Credits and other sources, is expected to reach $4.27 billion this year. This number is more than double the $2 billion Facebook is estimated to have earned in 2010. Facebook Ad Revenue to Top 3.8 Billion in 2011.
---