Software VennMarker
Within the social sciences, only quite complex and time-consuming tools have been available until now for collecting and quantitatively analysing data in social network analysis. Convincing instruments that are capable of digitally displaying and analysing qualitatively collected social support networks have also been lacking so far. The VennMaker project has bridged this gap and designed a software-based tool which is just as suitable for social network research as for client-centered consulting.
Linguistic Inquiry and Word Count
"Linguistic Inquiry and Word Count" (LIWC) es un programa de computadora que analiza textos y ha sido diseñado por James W. Pennebaker, Roger J. Booth, y Martha E. Francis. El LIWC es capaz de calcular cómo las personas usan diferentes categorías de palabras a través de una gran diversidad de textos.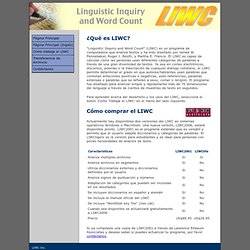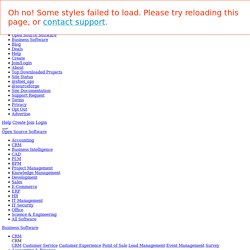 Audacity is available for Windows®, Mac®, GNU/Linux® and other operating systems. Check our feature list, wiki, and forum for more information. October 21, 2013: Audacity 2.0.5 Released Audacity 2.0.5 replaces all previous versions. It fixes crashes or hangs that were reported in Audacity 2.0.4 on some machines, and contains many other bug fixes and stability improvements. (OS X) Crashes when importing audio files are fixed.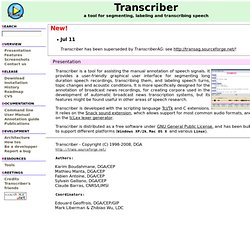 Transcriber is a tool for assisting the manual annotation of speech signals. It provides a user-friendly graphical user interface for segmenting long duration speech recordings, transcribing them, and labeling speech turns, topic changes and acoustic conditions. It is more specifically designed for the annotation of broadcast news recordings, for creating corpora used in the development of automatic broadcast news transcription systems, but its features might be found useful in other areas of speech research. Transcriber is developed with the scripting language Tcl/Tk and C extensions.
Transcriber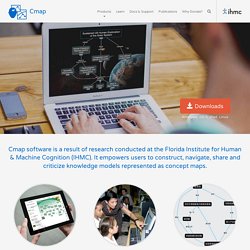 The IHMC CmapTools program empowers users to construct, navigate, share and criticize knowledge models represented as concept maps. It allows users to, among many other features, construct their Cmaps in their personal computer, share them on servers (CmapServers) anywhere on the Internet, link their Cmaps to other Cmaps on servers, automatically create web pages of their concept maps on servers, edit their maps synchronously (at the same time) with other users on the Internet, and search the web for information relevant to a concept map. CmapTools is used worldwide in all domains of knowledge and by users of all ages to graphically express their understanding. In particular, CmapTools is used in schools, universities, government organizations, corporations, small companies, and other organizations, both individually and in groups, for education, training, knowledge management, brainstorming, organizing information, among other applications.