Software
VennMarker. Linguistic Inquiry and Word Count. "Linguistic Inquiry and Word Count" (LIWC) es un programa de computadora que analiza textos y ha sido diseñado por James W.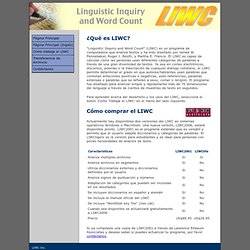 Pennebaker, Roger J. Booth, y Martha E. Francis. El LIWC es capaz de calcular cómo las personas usan diferentes categorías de palabras a través de una gran diversidad de textos. Free Audio Editor and Recorder. ATLAS.ti: The Qualitative Data Analysis Software. Transcriber. Transcriber is a tool for assisting the manual annotation of speech signals.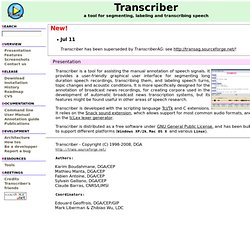 It provides a user-friendly graphical user interface for segmenting long duration speech recordings, transcribing them, and labeling speech turns, topic changes and acoustic conditions. It is more specifically designed for the annotation of broadcast news recordings, for creating corpora used in the development of automatic broadcast news transcription systems, but its features might be found useful in other areas of speech research. Transcriber is developed with the scripting language Tcl/Tk and C extensions. Transana. CmapTools - Download.
---