Writers
And So It Goes: A Rare Glimpse of Kurt Vonnegut's Tortured Soul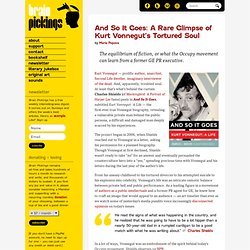 by Maria Popova The equilibrium of fiction, or what the Occupy movement can learn from a former GE PR executive. Kurt Vonnegut — prolific author, anarchist, Second Life dweller, imaginary interviewer of the dead. And, apparently, troubled soul.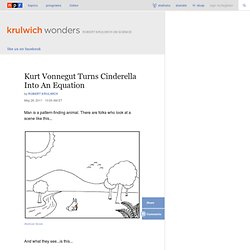 Man is a pattern-finding animal. There are folks who look at a scene like this... And what they see...is this...
Kurt Vonnegut Turns Cinderella Into An Equation : Krulwich Wonders…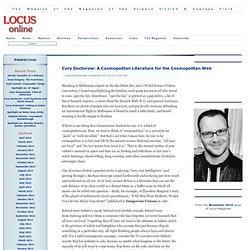 Standing in Melbourne airport on the day before this year's World Science Fiction convention, I found myself playing the familiar road-game known to all who travel to cons: spot the fan. Sometimes, ''spot the fan'' is pitched as a pejorative, a bit of fun at fannish expense, a sneer about the fannish BMI, B-O, and general hairiness. But there are plenty of people who are heavyset, and practically everyone debarking an international flight to Melbourne is bound to smell a little funky, and beard-wearing is hardly unique to fandom. If there is one thing that characterizes fandom for me, it is a kind of cosmopolitanism. Now, we tend to think of ''cosmopolitan'' as a synonym for ''posh'' or ''well-travelled.'' But that's not what I mean here: for me, to be cosmopolitan is to live your life by the ancient science fictional maxims: ''All laws are local'' and ''No law knows how local it is.''
A Cosmopolitan Literature for the Cosmopolitan Web
BOOK VIEW CAFE BLOG » A Note at the Beginning
I've been inspired by José Saramago's extraordinary blogs, which he posted when he was 85 and 86 years old. They were published this year in English as The Notebook. I read them with amazement and delight. I never wanted to blog before.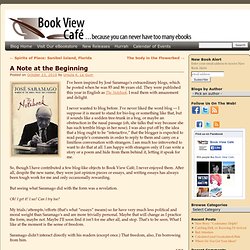 Justina Robson: Home Page
Krumme1.fm - Powered by Google Docs
On my last writing update I prefaced the post with an apology for my absence and here must do so again. I've got some horrible stuff going on in my life at the moment that's put me severely out of kilter, and I can't say much more about it than that. These particularly shitty events are also why you won't be seeing a video clip from me answering your questions for … well, until I'm ready.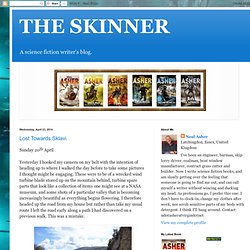 THE SKINNER
Neal Stephenson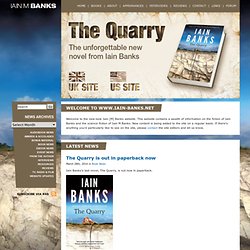 Welcome to www.iain-banks.net Welcome to the new-look Iain [M] Banks website. This website contains a wealth of information on the fiction of Iain Banks and the science fiction of Iain M Banks. New content is being added to the site on a regular basis. If there's anything you'd particularly like to see on the site, please contact the site editors and let us know.
Iain [M] Banks
The Waste Land by T.S. Eliot as hypertext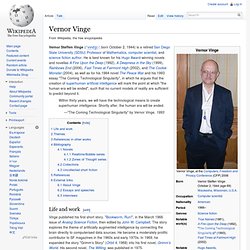 Within thirty years, we will have the technological means to create superhuman intelligence. Shortly after, the human era will be ended.—"The Coming Technological Singularity" by Vernor Vinge, 1993 Life and work[edit]
Vernor Vinge
Vernor Vinge on the Singularity
Vernor Vinge on the Singularity - part 1 of 2
We're about ten days away from the Doctor Who table reading. I spoke to the Director for the first time yesterday. And the script is pretty much the script. (ie, I'm about to send off a script to the Script Editor that I hope will be, if not the last draft, then the one that we go into the table read with). Technically it's probably the tenth draft, but I'm not really counting any more.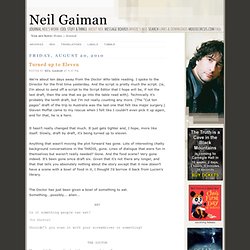 Turned up to Eleven
Neil Gaiman's MouseCircus.com | The Graveyard Book Video Tour Readings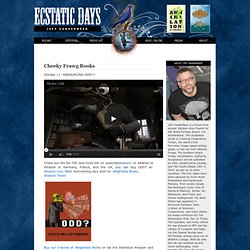 Jeff VanderMeer
October 11: ANNOUNCING ODD?!! Check out the full TOC and more info on subscriptionshere. In addition to Amazon in Germany, France, and the UK, you can buy ODD?
browse your computer drag and drop here Ctrl + V paste from your clipboard By uploading, you agree to our terms of service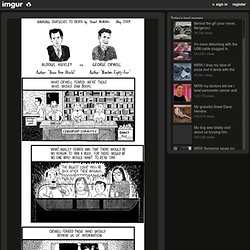 Huxley world v Orwell world