Prose
James Joyce reading from "Finnegans Wake"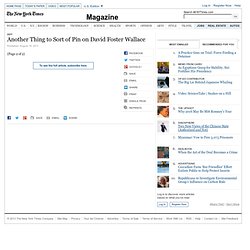 The ur-text of this movement, though, is Wallace's essay "E Unibus Pluram: Television and U.S. Fiction," written in 1993. It's a call for writing that transcends irony and detachment but, itself, comes drenched in both. The essay bemoans what Wallace saw as the near-impossibility of writing inventive, self-aware fiction in a television culture. He concludes by imagining some future group of "literary 'rebels' " who would be "willing to risk the yawn, the rolled eyes, the cool smile, the nudged ribs . . .
Another Thing to Sort of Pin on David Foster Wallace
One Ring Zero with Margaret Atwood in Toronto
Philip Roth on Fame, Sex and God - Rita Braver - CBS Sunday Morning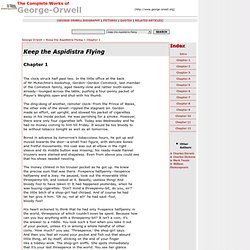 The clock struck half past two. In the little office at the back of Mr McKechnie's bookshop, Gordon--Gordon Comstock, last member of the Comstock family, aged twenty-nine and rather moth-eaten already--lounged across the table, pushing a four-penny packet of Player's Weights open and shut with his thumb. The ding-dong of another, remoter clock--from the Prince of Wales, the other side of the street--rippled the stagnant air. Gordon made an effort, sat upright, and stowed his packet of cigarettes away in his inside pocket. He was perishing for a smoke.
Keep the Aspidistra Flying - Chapter 1
Toni Morrison - Nobel Lecture
Nobel Lecture December 7, 1993 Listen to an Audio Recording of Toni Morrison's Nobel Lecture * 33 min. "Once upon a time there was an old woman. Blind but wise." Or was it an old man?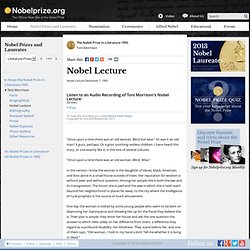 New fiction: The stuff of life
By Jonathan Franzen. Buy from Amazon.com , Amazon.co.uk IT WAS John DeForest, a writer of the civil-war period, who defined the Great American Novel in an 1868 essay for the as "painting the American soul within the framework of a novel". DeForest was arguing over the relative merits of Nathaniel Hawthorne and Harriet Beecher Stowe, two writers who definitely fit the bill.