New Scientist
My New Scientist - Registered user - New Scientist. Cookies on the New Scientist website close Our website uses cookies, which are small text files that are widely used in order to make websites work more effectively.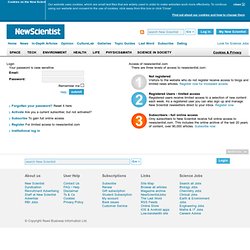 To continue using our website and consent to the use of cookies, click away from this box or click 'Close' Zoologger: Ancient air-breathing, triple-jawed fish - life - 29 September 2010. Zoologger is our weekly column highlighting extraordinary animals – and occasionally other organisms – from around the world Species: Pantodon buchholzi Habitat: still waters such as swamps and creeks in west Africa, very much doing its own thing We've all heard the saying "If it ain't bust, don't fix it".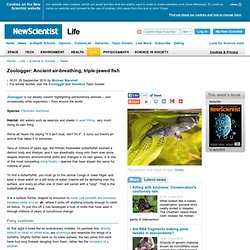 It turns out there's an animal that takes it to extremes. Tens of millions of years ago, the African freshwater butterflyfish evolved a distinct body and lifestyle, and it has steadfastly clung onto them ever since, despite dramatic environmental shifts and changes in its own genes. How to be happy (but not too much) - 22 September 2010. Read more: "How to be happy: Putting well-being on the agenda" Editorial: Don't get too happy It's good for your health, it makes you smarter – and our brains are hard-wired for it.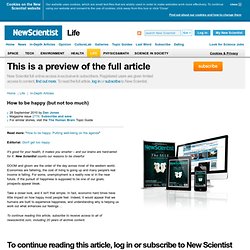 New Scientist counts our reasons to be cheerful DOOM and gloom are the order of the day across most of the western world. Economies are faltering, the cost of living is going up and many people's real income is falling. Hydrogen bombshell: Rewriting life's history - life - 11 August 2010. Oxygen is supposed to have driven the evolution of complex life – but the discovery of animals that thrive without it tells a different story GO WEST, young man!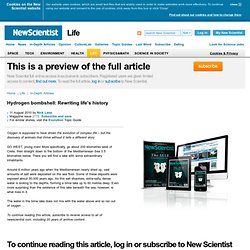 More specifically, go about 200 kilometres west of Crete, then straight down to the bottom of the Mediterranean Sea 3.5 kilometres below. Swarming spacecraft to self-destruct for greater good - space - 06 September 2010. Future space probes that operate in cooperative swarms must commit hara-kiri if they begin to fail and risk damaging their comrades, says a recent patent application by NASA.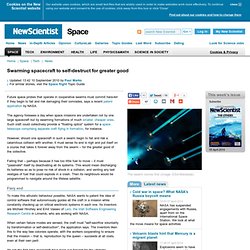 The agency foresees a day when space missions are undertaken not by one large spacecraft but by swarming formations of much smaller, cheaper ones. Such craft could collectively provide a "floating optics" system for a space telescope comprising separate craft flying in formation, for instance. Courgettes, judo throws and bear attacks on humans. "Put the courgette down, lady" (Image: Mike Tan.C .T/Shutterstock) Rowan Hooper, news editor I'm glad it's not just me who loves stories about encounters between bears and humans.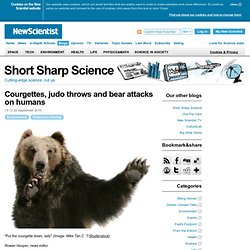 As I write, at least 541 news sources around the world including The Guardian and the BBC have picked up the story of a Montana woman throwing a courgette (aka a zucchini) at a bear she encountered in her house. It reminded me of a story of a man gathering mushrooms in Kanagawa Prefecture, Japan, who was attacked and bitten by a bear. What the bear wasn't expecting was that the mushroom picker was a judo expert, who simply threw the bear on its back.
---