Learning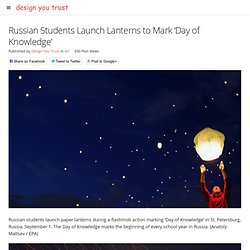 Russian Students Launch Lanterns to Mark 'Day of Knowledge'
Russian students launch paper lanterns during a flashmob action marking 'Day of Knowledge' in St. Petersburg, Russia, September 1.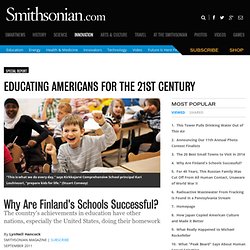 It was the end of term at Kirkkojarvi Comprehensive School in Espoo, a sprawling suburb west of Helsinki, when Kari Louhivuori, a veteran teacher and the school's principal, decided to try something extreme—by Finnish standards. One of his sixth-grade students, a Kosovo-Albanian boy, had drifted far off the learning grid, resisting his teacher's best efforts. The school's team of special educators—including a social worker, a nurse and a psychologist—convinced Louhivuori that laziness was not to blame. So he decided to hold the boy back a year, a measure so rare in Finland it's practically obsolete. Finland has vastly improved in reading, math and science literacy over the past decade in large part because its teachers are trusted to do whatever it takes to turn young lives around.
Learning Styles Debunked: There is No Evidence Supporting Auditory and Visual Learning, Psychologists Say
Are you a verbal learner or a visual learner? Chances are, you've pegged yourself or your children as either one or the other and rely on study techniques that suit your individual learning needs. And you're not alone— for more than 30 years, the notion that teaching methods should match a student's particular learning style has exerted a powerful influence on education.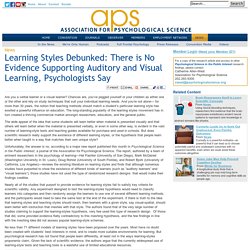 If you have a child entering grade school this fall, file away just one number with all those back-to-school forms: 65 percent. Chances are just that good that, in spite of anything you do, little Oliver or Abigail won't end up a doctor or lawyer — or, indeed, anything else you've ever heard of. According to Cathy N. Davidson, co-director of the annual MacArthur Foundation Digital Media and Learning Competitions, fully 65 percent of today's grade-school kids may end up doing work that hasn't been invented yet.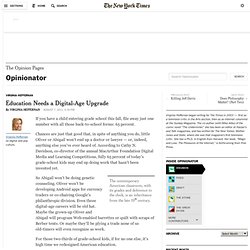 Education Needs a Digital-Age Upgrade
"If you want to kill a child's passion in anything, set them an exam on it" I think it was the late Professor Ted Wragg who coined that phrase. About ten years ago I wrote an article moaning about the culture of exams in the UK.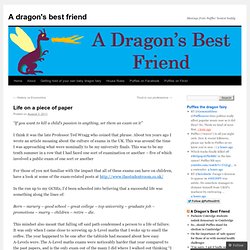 Life on a piece of paper
Video
The part 2 is The Steiner Waldorf cult uses bait and switch to get state funding. Part 2. The part 3 is Steiner Waldorf Schools Part 3.
The true nature of Steiner (Waldorf) education. Mystical barmpottery at taxpayers' expense. Part 1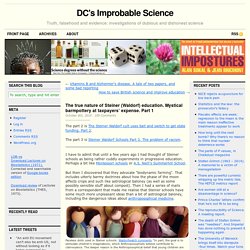 Why a school beats Facebook: how behaviors spread through networks
We all spend much of our days engaged in social networks, whether it's online, at work, or out with our friends, and we have a tendency to pick up new habits through these connections. A new study in Science set out to determine how behaviors travel through these social networks, and how the topology of the networks affects the diffusion of the behaviors. The experiment studied two different structures of social networks. In "random" networks, individuals are connected to others scattered throughout the network by connections that are called "long ties." In more "clustered" networks, social ties exist mostly between individuals that are close together in the network; there are few (if any) long ties connecting individuals from different topological areas.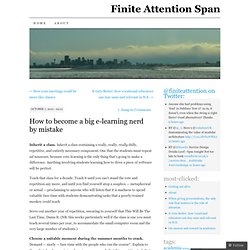 Inherit a class. Inherit a class containing a really, really, really dully, repetitive, and entirely necessary component. One that the students must repeat ad nauseam, because rote-learning is the only thing that's going to make a difference.
How to become a big e-learning nerd by mistake « Finite Attention Span