For a just world
Fox News Food Products | Speakeasy Science. In my recent post on the poisonous nature of pepper spray, I noted that the name makes it sound more innocuous than it really is.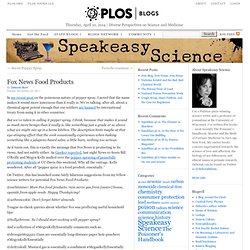 We're talking, after all, about a chemical agent potent enough that our soldiers are banned by international treaty from using it in other countries: But we've taken to calling it pepper spray, I think, because that makes it sound so much more benign than it really is, like something just a grade or so above what we might mix up in a home kitchen. The description hints maybe at that eye-stinging effect that the cook occasionally experiences when making something like a jalapeno-based salsa, a little burn, nothing too serious. Pepper Spraying Peaceful Protestors Continues; This Time at UC Davis. It's becoming a trend.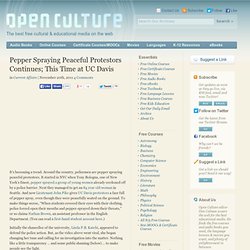 Around the country, policemen are pepper spraying peaceful protestors. It started in NYC when Tony Bologna, one of New York's finest, pepper sprayed a group of young women already cordoned off by a police barrier. Next they managed to get an 84 year old woman in Seattle. Bill Moyers: "Our Politicians Are Money Launderers in the Trafficking of Power and Policy" Comments Prepared for Delivery Public Citizen 40th Gala Washington, DC October20, 2011 I am honored to share this occasion with you.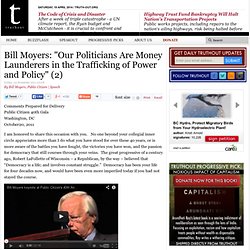 No one beyond your collegial inner circle appreciates more than I do what you have stood for over these 40 years, or is more aware of the battles you have fought, the victories you have won, and the passion for democracy that still courses through your veins. Lallands Peat Worrier. Trailer for Ai Weiwei: Never Sorry, the. MURDER (ABOLITION OF DEATH PENALTY) ACT 1965 (Hansard, 17 December 1969) If you would like legal advice please press #1 now…(and make sure you have your credit card details to hand) « crimsolicitor. As a preamble to this post let me make some disclosures.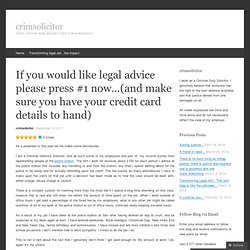 I am a Criminal Defence Solicitor, and as such some of my employers and part of my income comes from representing people at the police station. The firm I work for receives about £150 for each person I advise at the police station this includes any travelling to and from the station, any time I spend waiting about for the police to be ready and for actually attending upon the client. What do you do when a minister - Bob Neill - cites a statistic as laughable as this? Law centres are more necessary than ever in 'austerity Britain' | Jon Robins | Law. The legal not-for-profit sector will bear the brunt of the legal aid cuts that threaten to slash £350m from the £2.2bn total budget.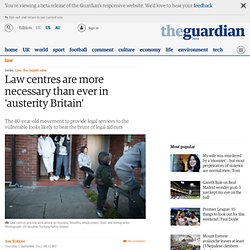 The Law Centres Federation reckons that as many as 18 of its 56 law centres could shut their doors unless ministers execute a U-turn. The Ministry of Justice is sticking to its guns and last week introduced plans to change the funding regime, including a 10% across-the-board cut to civil, criminal and family legal aid fees which will further tighten the noose around the not-for-profit sector's neck. I wrote recently about the closure of the Immigration Advisory Service, which was followed by the closure of the legal advice charity Law for All.
Bill Nighy Invites RBS to see what the cuts actually mean and to discuss the Robin Hood Tax. Paul Vallely: There is no moral case for tax havens - Commentators, Opinion. Are there any legitimate reasons why anyone would want to have a secret bank account – and pay a premium to maintain their anonymity – or move their money to one of the pink dots on the map which are the final remnants of the British empire: the Caymans, Bermuda, the Turks and Caicos and the British Virgin Islands?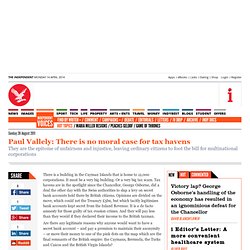 The moral case against is clear enough. Tax havens epitomise unfairness, cheating and injustice. They replace the old morality embodied in the Golden Rule of reciprocity – that we should do as we would be done by – with a new version that insists that those who have the gold make the rules. The old view, the neocon American Christopher Caldwell wrote recently, subscribes to a religious understanding of money that was universal in the Christian world before the rise of Protestantism, which acknowledges that people are alive but money is not, making it wrong for the latter to take precedence over the former – a notion as outdated as usury, he suggested tartly.
The right and the wrong lessons to draw from Libya's liberation | Andrew Rawnsley | Comment is free | The Observer. The hunter, hunted.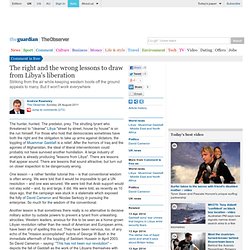 The predator, prey. The strutting tyrant who threatened to "cleanse" Libya "street by street, house by house" is on the run himself. For those who hold that democracies sometimes have both the right and the obligation to take up arms against dictators, the toppling of Muammar Gaddafi is a relief. After the horrors of Iraq and the agonies of Afghanistan, the ideal of liberal interventionism could probably not have survived another humiliation. A large industry of analysis is already producing "lessons from Libya". What if the Tea Party was Black? When ideas become powerful. Seth's Blog ...Seth Godin's riffs on marketing, respect, and the ways ideas spread.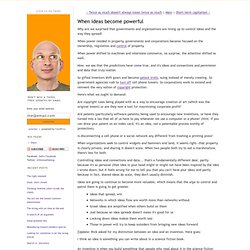 Recent Posts Archives More... 15 August 2011. How America turned poverty into a crime - War Room. I completed the manuscript for "Nickel and Dimed" in a time of seemingly boundless prosperity.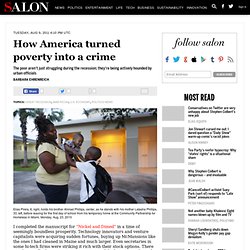 Technology innovators and venture capitalists were acquiring sudden fortunes, buying up McMansions like the ones I had cleaned in Maine and much larger. Even secretaries in some hi-tech firms were striking it rich with their stock options. There was loose talk about a permanent conquest of the business cycle, and a sassy new spirit infecting American capitalism. In San Francisco, a billboard for an e-trading firm proclaimed, "Make love not war," and then — down at the bottom — "Screw it, just make money."
Tel Aviv's 'tent city' protesters dig in to demand social justice | World news. Tent villages are to be pitched in up to a dozen Israeli-Arab towns on Friday as momentum behind Israel's grassroots campaign for social justice continues to build and unite disparate sections of society.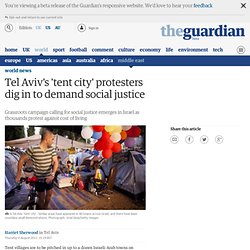 Taxi drivers blocked a major road in Tel Aviv on Thursday protesting over the cost of diesel, and parents planned "stroller protests" in the early evening demanding the cost of childcare and baby equipment be reduced. On Wednesday dairy farmers, army reservists, animal rights activists and West Bank settlers all held separate protests in Tel Aviv's Rothschild Boulevard, the centre of the nationwide movement. In Jerusalem, protesters blocked roads leading to the Knesset (parliament). Further demonstrations have been called across the country for Saturday following last week's marches, which attracted around 150,000 people, almost unprecedented in a country with a population of 7 million. Killing for Votes: The Dangers of Politicizing the Death Penalty Process. By Richard C. Dieter, Esq. Executive Director, Death Penalty Information Center October 1996 Persons who undertake the task of administering justice impartially should not be required--indeed, they should not be permitted--to finance campaigns or to curry the favor of voters by making predictions or promises about how they will decide cases before they have heard any evidence or argument.
I'm starting to think that the Left might actually be right. Independent Review of IP and Growth. An independent report by Ian Hargreaves In November 2010 the Prime Minister David Cameron announced an independent review of how the Intellectual Property framework supports growth and innovation. Chaired by Professor Ian Hargreaves and assisted by a panel of experts, the review reported to Government in May 2011. The Review makes 10 recommendations designed to ensure that the UK has an IP framework best suited to supporting innovation and promoting economic growth in the digital age. View the submissions to the call for evidence. Mitch Benn - I'm Proud of the BBC - Videos. HANSARD 1803–2005. Labour's full shadow team. Ed Miliband's office have now released a full list of junior shadow appointments.
This is the opposition frontbench team for each department. Leader of the Opposition Rt Hon Ed Miliband MP PPS to the Leader of the Opposition: Anne McGuire MPPPS to the Leader of the Opposition: Chuka Umunna MP. Manifesti. Empathy's failures. Ben Goldacre, The Guardian, Saturday 2 October 2010 Like all students of wrongness, I'm fascinated by research into irrational beliefs and behaviours, but I'm also suspicious of how far you can stretch the findings from a laboratory into the real world. A cracking new paper from Social Psychology and Personality Science makes a neat attempt to address this shortcoming. BBC Radio 3 Programmes - Night Waves, Frans de Waal, The Song of Lunch, Or You Could Kiss Me, WWI Reparations. Officers in shooting of Joe Clarke case could be charged. Officers in shooting of Joe Clarke case could be charged 8:37am Monday 4th October 2010 in News By Gavin Havery, Reporter (Derwentside & Tyneside) WOUNDS: Joe Clarke FOUR police officers will be interviewed under caution after the collapse of an attempted murder trial.
The Moral Landscape: Q & A with Sam Harris : 10 Questions for Vince Cable, post-Question Time. Saturday Morning Breakfast Cereal. The coalition will produce a farce of fairness. The Seven-Headed President: Switzerland Celebrates Europe's Strangest System of Government - SPIEGEL ONLINE - News - International. Electoral Reform Society. Electoral Reform Society - Electoral Reform Society. Electoral Reform Society. United Kingdom Alternative Vote referendum, 2011. Spanish inquisition. Monty Python - Spanish Inquisition Torture Scene. Charon QC. Why millions of deaths can be "just" a statistic… Free Word. Poverty Review | Homepage. Libertarian Debate « Mimi and Eunice. TEDxChange | Bill & Melinda Gates Foundation. Mimi and Eunice. Frank and Associates.
Integrity. Intellectual investment. Humanism. Secularism. Skeptics. Electoral reform. Gladwell on Social Media and Activism - Alexis Madrigal - Technology. Legal matters.
Economics. BBC One Programmes - The Secrets of Scientology. Liberaltarianism and regulation: Swimming and freedom. Legal Threat Demands We Shut Down Techdirt. A New Far-Right Generation: Neo-Nazis Seek Foothold in Kindergartens - SPIEGEL ONLINE - News - International. The EU's expulsion machine. Why the free market is like quantum mechanics. Haiti: 230,000 Deaths. Canterbury: 0 Deaths. Why? Canterbury Earthquake (Pt I) | Shaken Not Stirred. Mark Steel's Blog : Adventures in politics. Frank and Associates. Index on Censorship » Blog Archive » Index on Censorship presents…GO EAST! Tom Morris - Cudd, capsule histories and scientific multiculturalism. Fascism and the New Right | White Coat Underground. The Free Speech Blog: Official blog of Index on Censorship » With Major Gift, U. of Oxford to Establish a School of Government - International.
---