Journalism with integrity
Why I spoofed science journalism | Martin Robbins | Science. Bizarrely, the most read article on the Guardian website last week wasn't about Ed Miliband or the Labour party conference, but a quirky special-interest piece spoofing science journalism which I assumed only about three people would get.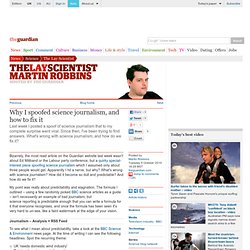 Apparently I hit a nerve, but why? What's wrong with science journalism? How did it become so dull and predictable? And how do we fix it? ..nil nisi bonum. « previous post | next post » I can understand why Margalit Fox would want to give such prominence to Edwin Newman's two books on usage in her New York Times obituary for for the journalist, who died recently at 91.
Newman retired from NBC more than 25 years ago, and people who remember him are likely to be hazier on his journalism than on his 1970's bestsellers Strictly Speaking and A Civil Tongue, which are still in print (though only in large type and audio editions appropriate to a public of advancing diopter). But I wish they had left me out of it. His prescriptive approach to English did not win favor everywhere. In an article in The Atlantic in 1983, the linguist Geoffrey Nunberg took Mr. Bersenev. Cellular Therapy and Transplantation is a new international, peer-reviewed, open access journal which publishes articles in the fields of cellular and genetic therapy and transplantation.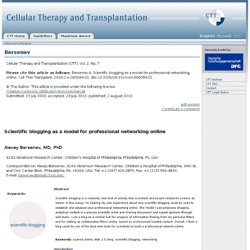 We welcome original research articles, review articles, and case reports. The major criteria for acceptance and publication of a manuscript are originality, high quality, scientific rigor, and interest to a wide audience of readers. Papers accepted for publication in CTT are made available on this site at no charge to readers (Open Access). When Interviewees Record! An experiment/interview on journalism | Not Exactly Rocket Science. How can journalists make the most of the interviews that they do?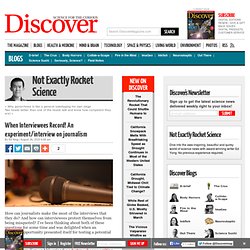 And how can interviewees protect themselves from being misquoted? I've been thinking about both of these questions for some time and was delighted when an excellent opportunity presented itself for testing a potential answer. A few weeks ago, Zoe Corbyn asked to interview me about science journalism and blogging for a feature she was writing for the Times Higher Education Supplement. I agreed and suggested that we try a little experiment: I would record the interview myself, transcribe it and post it here to coincide with her piece. "Part of Our World: Journalism as Civic Leadership"
1.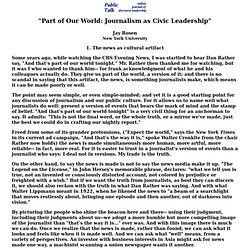 The news as cultural artifact Some years ago, while watching the CBS Evening News, I was startled to hear Dan Rather say, "And that's part of our world tonight. " Mr. Rather then thanked me for watching, but it was I who wanted to thank him-- for frank acknowledgment of what he and his colleagues actually do. Trial by error. How bad is mainstream science reporting?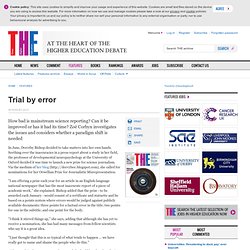 Can it be improved or has it had its time? Zoë Corbyn investigates the issues and considers whether a paradigm shift is needed In June, Dorothy Bishop decided to take matters into her own hands. Seething over the inaccuracies in a press report about a study in her field, the professor of developmental neuropsychology at the University of Oxford decided it was time to launch a new prize for science journalism.
Retraction Watch. Jay Rosen on the media: Seven questions for Jay Rosen. Attributing sources. Phone hacking: Met police put on spot by ignored leads and discreet omissions | Media. Somewhere in the offices of the Crown Prosecution Service, there is a file that will be of great interest to any independent inquiry that attempts to tell the truth about the behaviour of the Metropolitan police in the phone hacking scandal at the News of the World.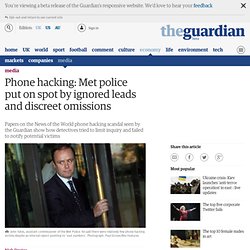 The Guardian has read it. The police were dragged into the centre of the scandal last week when the New York Times quoted unnamed detectives claiming that Scotland Yard's "close relationship" with the News of the World had hampered the inquiry. Adam Penenburg. Adam Penenberg.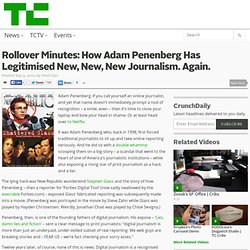 If you call yourself an online journalist, and yet that name doesn't immediately prompt a nod of recognition – a smile, even – then it's time to close your laptop and bow your head in shame. Or at least head over to Netflix. It was Adam Penenberg who, back in 1998, first forced traditional journalists to sit up and take online reporting seriously. And he did so with a double whammy: scooping them on a big story – a scandal that went to the heart of one of America's journalistic institutions – while also exposing a rising star of print journalism as a hack and a liar. The lying hack was New Republic wunderkind Stephen Glass and the story of how Penenberg – then a reporter for 'Forbes Digital Tool' (now sadly swallowed by the execrable Forbes.com) – exposed Glass' fabricated reporting was subsequently made into a movie.
Jay Rosen @ Sciences Po: Who is the audience, and what does that make us, journalists? @ Fiction in Truth. Fury at BBC's 'anti-Scottish' broadcast. Saturday, 28 August 2010 16:04 Politicians and members of the public have reacted with fury after a BBC Radio 4 broadcast heard commentators describe Scots as living off of benefits provided by the English and describe the Scottish parliament as a "charade of a building" inhabited by MSPs who "crawl out of the darkness".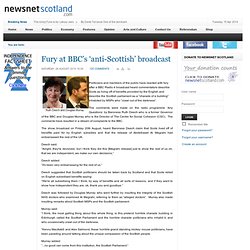 The comments were made on the radio programme 'Any Questions' by Baroness Ruth Deech who is a former Governor of the BBC and Douglas Murray who is the Director of The Centre for Social Cohesion (CSC). The comments have resulted in a stream of complaints to the BBC. The show, broadcast on Friday 20th August, heard Baroness Deech claim that Scots lived off of benefits paid for by English subsidies and that the release of Abdelbaset Al Megrahi had embarrassed the rest of the UK.
---