Archaeostats
In 1977, John Tukey published a book called Exploratory Data Analysis.
Seth's blog » Blog Archive » Exploratory Versus Confirmatory Data Analysis?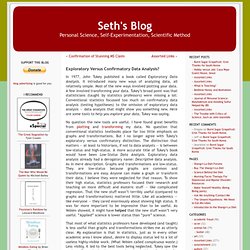 Over the next two months, I've been asked to write an essay on settlement in 7th and 8th century Cyprus. My work at Polis-Chrysochous and at the site of Pyla-Koutsopetria puts me in a good position to think broadly of this transitional period with two specific points of reference.
The Archaeology of the Mediterranean World: Archaeology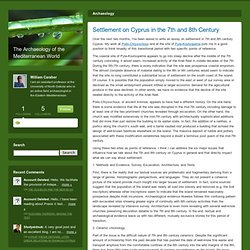 Carl Lipo at Evolution Beach has been kind enough to recommend Aard to his readers. He characterises me as "a big advocator for science based archaeology in the classic 'New Archaeology' sense". It's not the first time I've been called a New Archaeology guy, and I don't consider it unflattering, but I do feel that it calls for a few comments. Archaeology emerged as a scientific discipline with the work of C.J. Thomsen in the early 1800s. It's a worldwide crazy quilt of regional subdisciplines that needn't communicate much.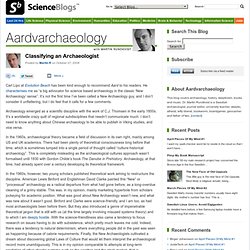 Classifying an Archaeologist : Aardvarchaeology
Pseudo-archaeologists claim that revolutionary new theories abound within the garish covers of their books. Meanwhile, mainstream archaeology trundles along as usual, with archaeologists continually re-assessing their data and refining their interpretations as a result (sometimes in fundamental and radical ways). Such self-critical evolution is non-existent within the realm of the self-styled revolutionaries of pseudo-archaeology. Archaeologists evolve while the cranks just revolve.
A Sceptical Archaeology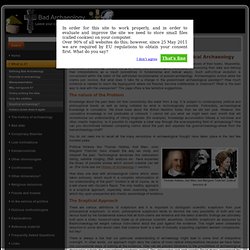 Bad Archaeology: leave your common sense behind!
American Antiquity, Vol. 43, No. 2 (Apr., 1978), pp. 231-244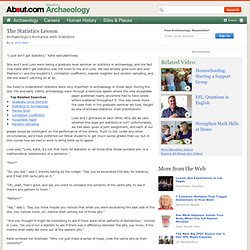 The Statistics Lesson: Archaeology and Statistics
"I just don't get statistics," Katie said plaintively.
IOSA.it | Open Archaeology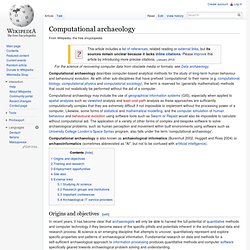 Computational archaeology
Computational archaeology describes computer-based analytical methods for the study of long-term human behaviour and behavioural evolution.
Review Praise for the 2nd Edition: "Statistics is often perceived as something mysterious and hostile, and this holds particularly true for archaeologists... The merit of Drennan's work is that he takes readers by the hand and gently guides them through that minefield, etting them discover that statistics can be a matter easily approached and understood from a commonsense perspective...Fourteen years after the first edition, a number of important new topics are added.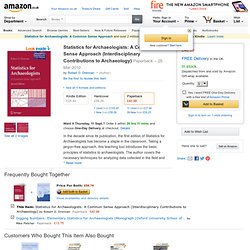 Statistics for Archaeologists: A Common Sense Approach Interdisciplinary Contributions to Archaeology: Amazon.co.uk: Robert D. Drennan
Review Praise for the first edition: "Robert Drennan has done the field a great service." (Larry R.
Statistics for Archaeologists: A Common Sense Approach Interdisciplinary Contributions to Archaeology: Amazon.co.uk: Robert D. Drennan
David Hurst Thomas
David Hurst Thomas is the Curator in the Department of Anthropology at the American Museum of Natural History and an Adjunct Professor at Columbia University and the City University of New York.[1]
Bayesian Statistics
John Wilder Tukey ForMemRS[1] (/ˈtuːki/;[2] June 16, 1915 – July 26, 2000) was an American mathematician best known for development of the FFT algorithm and box plot.[3] The Tukey range test, the Tukey lambda distribution, the Tukey test of additivity, and the Teichmüller–Tukey lemma all bear his name.
John Tukey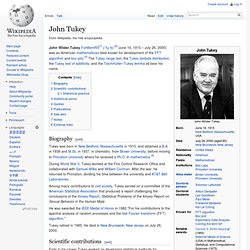 How to look at data: A review of John W. Tukey's Exploratory Data Analysis
Exploratory Data Analysis
The late Prof.
In statistics, exploratory data analysis (EDA) is an approach to analyzing data sets to summarize their main characteristics, often with visual methods. A statistical model can be used or not, but primarily EDA is for seeing what the data can tell us beyond the formal modeling or hypothesis testing task. Exploratory data analysis was promoted by John Tukey to encourage statisticians to explore the data, and possibly formulate hypotheses that could lead to new data collection and experiments.
Exploratory data analysis
Hoaglin: John W. Tukey and Data Analysis
David C. Hoaglin
Richard Smith, former editor of the BMJ, writes about Peter Wilmshurst, a British cardiologist, an unusually brave and honest man: He was the coprincipal investigator on a trial funded by NMT, an American company, to see whether closing a hole in the heart of patients with migraine would cure their migraine. It didn't.
Seth's blog » academic fraud