Idiomas
Exteriores vocabulario del lenguaje, gramática y lecturas
Language Bookstore - Multilingual Books Language and ESL Books, Courses, Software
As someone whose first or second language was not English , I decided to focus on the most widely-spoken language in the world and the difficulties I had while learning it. It's true what they say: kids are like sponges, they soak up all kinds of information rather quickly. This is also true for languages. You place a child in a new environment and they will pick up the culture , slang, pronunciation, etc., in a timely manner. I know this because I was one of those kids.
Mango Languages | Learn a Language, Learn Spanish, Learn Chinese Fast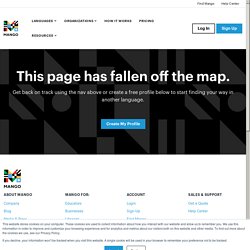 el sitio de las lenguas
Language Teaching & Learning Resources Site!
jVLT - Home
Language exchange penpals, online vocabulary, word games: all FREE - LingoZone.com
¡Aprender idiomas y hacer nuevos amigos a nivel mundial!