Idiomas
Exteriores vocabulario del lenguaje, gramática y lecturas
Language Bookstore - Multilingual Books Language and ESL Books, Courses, Software
el sitio de las lenguas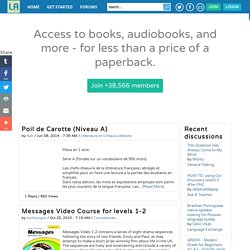 Language Teaching & Learning Resources Site!
Re uploaded on 11-Apr-14 by DEDrei Teile - Bruckenkurs, Hauptkurs, Abschlusskurs - führen zu den Prufungen auf der Niveaustufe C1 des Gemeinsamen europaischen Referenzrahmens. Der Abschlusskurs fuhrt zur Niveaustufe C1. Aufbau des Kursbuchs Zehn thematish strukturierte Einheiten: Lektion 1: Aus aller Welt Lektion 2: Finanzen Lektion 3: Literatur Lektion 4: Der gute Tone Lektion 5: Psychologie Lektion 6: Karriere Lektion 7: Kriminalitنt Lektion 8: Wissenschaft Lektion 9: Kunst Lektion 10: GlobalisierungPDF+MP3/376.06... [Read More]
jVLT is a vocabulary learning tool. Examples containing one or many of the vocabulary words may be specified. jVLT also can perform quizzes using a flash card system which is similar to the selective learning system proposed by German psychologist Sebastian Leitner. During a quiz, jVLT shows the examples of each word, letting you better memorize its usage. Additional features: As jVLT is written in JAVA, it runs on many platforms, including Windows, Linux and Mac OS X.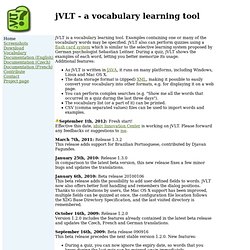 jVLT - Home
Language exchange penpals, online vocabulary, word games: all FREE - LingoZone.com
Through ConversationExchange.com you can have three types of language exchange: 1. Face to face conversation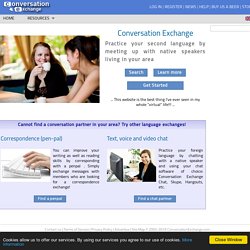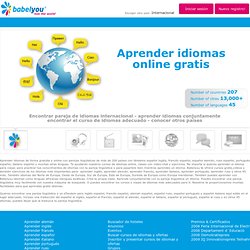 ¡Aprender idiomas y hacer nuevos amigos a nivel mundial!
Punto de encuentro Video-Chat Crear la propia área de video chat para aprender idiomas o simplemente para conversar Videos para aprender idiomas gratis Aprender fácilmente un idioma a través de videos y ejercicios gratis Mis viajesPortal de viajes Conocer otras culturas y la historia de otros países