Intelligent thought continued
Simple « brh. 2012-03-14-GEORGE-CARLIN-on-assassination.png (PNG Image, 980 × 4398 pixels) Music: It's in your head, changing your brain. Bassist Victor Wooten says you don't need to start with the rules of music in order to play an instrument.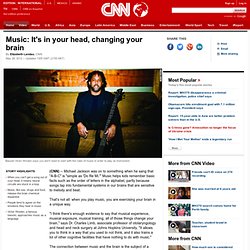 When you can't get a song out of your head, it means neural circuits are stuck in a loop Music, like sex, drugs and food, release the brain chemical dopaminePeople tend to agree on the emotions they hear in musicVictor Wooten, a famous bassist, approaches music as a language (CNN) -- Michael Jackson was on to something when he sang that "A-B-C" is "simple as 'Do Re Mi.'
" Music helps kids remember basic facts such as the order of letters in the alphabet, partly because songs tap into fundamental systems in our brains that are sensitive to melody and beat. My Collection of Funny Emails. Send funny emails to your friends! Why didn't I think of that?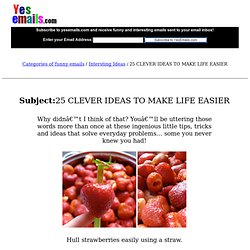 You'll be uttering those words more than once at these ingenious little tips, tricks and ideas that solve everyday problems... some you never knew you had! Hull strawberries easily using a straw. Rubbing a walnut over scratches in your furniture will disguise dings and scrapes. Remove crayon masterpieces from your TV or computer screen with WD40. (also works on walls). Instinct - The easiest way to learn a musical instrument. Born to Learn ~ You are Born to Learn. Mushroom Death Suit Consumes Body of Person After They Die. Radical Sharing Works: This Guy Lets the World Use His Starbucks Card for Free (UPDATED) - Business. Download this image to your phone, take it to Starbucks and scan it at the cash register: It'll get you a free coffee.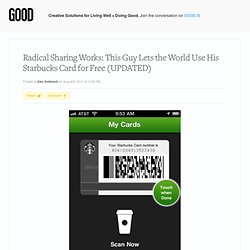 It's part of a radical experiment in sharing that's teaching us something about mobile money in the process. "It's been extremely uplifting," Jonathan Stark tells GOOD. About one month ago, Stark posted the barcode image for his personal Starbucks card online, for anyone to use. 11170412a.jpg (JPEG Image, 495 × 700 pixels) - Scaled (80%) Best Teacher I Ever Had. Best Teacher I Ever Had by David Owen Extracted from Reader's Digest (Asian Edition), April 1991, pp. 47-48.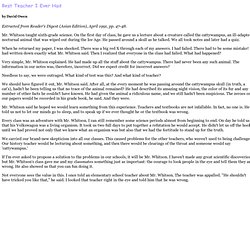 Mr. Whitson taught sixth-grade science. The way you think about time has a big effect on behavior. By Marshall Brain | June 23, 2010 This is a fascinating video that looks at the different ways that human beings perceive time and the effects that these perceptions have on our behavior: The video starts by identifying six ways to perceive time: 1) Looking at the past as "the good old times" (past positive) 2) Looking at the past as a time filled with regrets and failure (past negative) 3) Present Hedonistic – focused on maximizing immediate pleasure and minimizing immediate pain.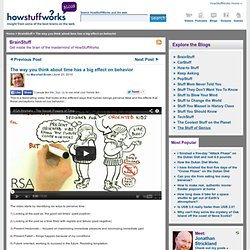 Five Reasons Why The Very Rich Have NOT Earned Their Money. The wealthiest Americans believe they've earned their money through hard work and innovation, and that they're the most productive members of society.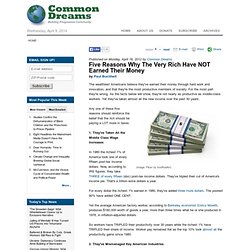 For the most part they're wrong. As the facts below will show, they're not nearly as productive as middle-class workers. The Left Hand of Satan - Born Again Pagan Cartoons. Real Jesus Versus Republican Jesus. Siri On Your Friends iPhone? He-Who-Works1.jpg (JPEG Image, 444 × 497 pixels) 1754230_460s.jpg (JPEG Image, 460 × 375 pixels) Being Garifuna. How to Disagree. March 2008 The web is turning writing into a conversation.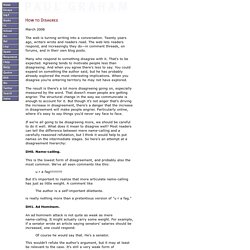 Twenty years ago, writers wrote and readers read. The web lets readers respond, and increasingly they do—in comment threads, on forums, and in their own blog posts. A taxi driver's ultimate revenge on customer through Facebook. Belief in Nothing. Nihilism confuses people.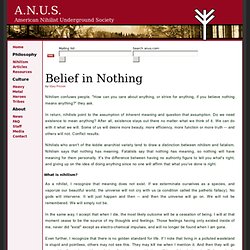 "How can you care about anything, or strive for anything, if you believe nothing means anything? " they ask. What is Consciousness? 20 Mind Blowing Facts You Probably Didn't Know. LOGIC « Little Love Monster. WHAM! BAM! ISLAM! Trailer. Ryan Grim: Read the Never-Before-Published Letter From LSD-Inventor Albert Hofmann to Apple CEO Steve Jobs. The following post is adapted from the new book "This Is Your Country On Drugs: The Secret History of Getting High in America.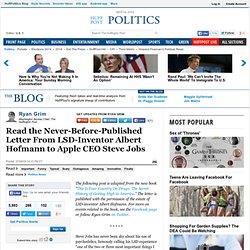 " The letter is published with the permission of the estate of LSD-inventor Albert Hofmann. For more on events related to the book, see the Facebook page or follow Ryan Grim on Twitter. Steve Jobs has never been shy about his use of psychedelics, famously calling his LSD experience "one of the two or three most important things I have done in my life.
" So, toward the end of his life, LSD inventor Albert Hofmann decided to write to the iPhone creator to see if he'd be interested in putting some money where the tip of his tongue had been. Thing.19335677.l.jpg (JPEG Image, 300x300 pixels) The Theory of Hipster Relativity. Calvin_hobbes_writing.jpg (JPEG Image, 778x253 pixels) Holeinchest.jpg (JPEG Image, 904x567 pixels) - Scaled (98. Plato's "The Allegory of the Cave" "In fact, you get pretty good at understanding how the patterns in the show work, and everyone else chained up is like, 'Holy shit bro, how did you know that that tree was going to fall on that guy?'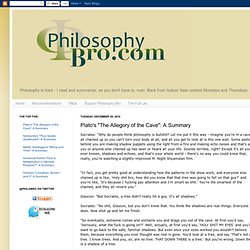 And you're like, 'It's because I fucking pay attention and I'm smart as shit.' You're the smartest of the chained, and they all revere you. " Glaucon: "But Socrates, a tree didn't really hit a guy. It's all shadows. " Socrates: "No shit, Glaucon, but you don't know that.
---