Oblivion
Presque tout les codes pour les objets + sondage - The Elder Scrolls 4 : Oblivion. Vous avez besoin d'aide pour finir The Elder Scrolls 4 : Oblivion ?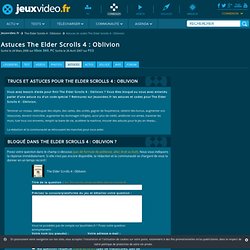 Vous êtes bloqué ou vous avez entendu parler d'une astuce ou d'un code spécial ? Retrouvez sur Jeuxvideo.fr les astuces et codes pour The Elder Scrolls 4 : Oblivion. Terminer un niveau, débloquer des objets, des cartes, des unités, gagner de l'expérience, obtenir des bonus, augmenter vos ressources, devenir invincible, augmenter les dommages infligées, avoir plus de crédit, améliorer vos armes, traverser les murs, tuer tous vos ennemis, remplir sa barre de vie, accélérer la machine, trouver des astuces pour le jeu en réseau...
Oblivion : Commandes console. La console est activée grâce à la touche "²" et permet d'appeler de nombreuses fonctions, telles qu'invoquer un objet ou un ennemi, tuer un personnage d'un seul coup, traverser les murs, etc...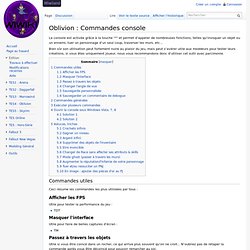 Bien sûr son utilisation peut fortement nuire au plaisir du jeu, mais peut s'avérer utile aux moddeurs pour tester leurs créations, si vous êtes uniquement joueur, nous vous recommandons donc d'utiliser cet outil avec parcimonie. Commandes utiles. Daedric Quests. The Daedric Quests are fifteen quests that are each completed at the request of one of the Daedric Princes, and offer a Daedric artifact as a result.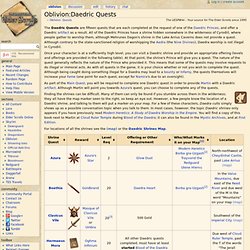 All of the Daedric Princes have a shrine hidden somewhere in the wilderness of Cyrodiil, where people gather to worship them, although Mehrunes Dagon's shrine in the Lake Arrius Caverns does not provide a quest. Although contrary to the state-sanctioned religion of worshipping the Aedra (the Nine Divines), Daedra worship is not illegal in Cyrodiil. Once your character is at a sufficiently high level, you can visit a Daedric shrine and provide an appropriate offering (levels and offerings are provided in the following table). At that point, the shrine's Prince will give you a quest. The nature of the quest generally reflects the nature of the Prince who provided it. Solution Bravil The Elder Scrolls 4 : Oblivion dans Les quetes secondaires.
Soluce The Elder Scrolls 4 : Oblivion Oblivion est un jeu de rôle vaste, très vaste.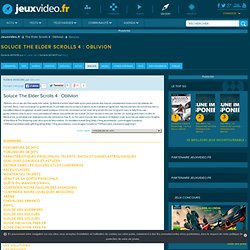 Sa liberté d'action étant telle qu'on peut passer des heures simplement à parcourir les plaines de Cyrodiil. Alors, c'est normal qu'un guide de jeu d'une telle oeuvre se fasse à tatons et de manière progressive. Heureusement de nombreux fans y travaillent depuis longtemps et petit à petit quelque chose de consistant est en train de prendre forme.Un grand merci à Sebj16 du site guide.oblivion.free.fr pour nous permettre d'utiliser une partie de son travail. Du bon boulot à n'en pas douter.Un autre grand merci à Lilou la Nérévarine, propriétaire et réalisatrice du site nerevarine.free.fr, où l'on peut trouver des solutions d'Oblivion mais aussi de ses extensions Knights of the Nine et The Shivering Isles ainsi que de Morrowind. Elder Scrolls IV: Oblivion Tweak Guide. While Oblivion has many in-game options for adjusting visual quality and performance, that's not where the tweaking stops.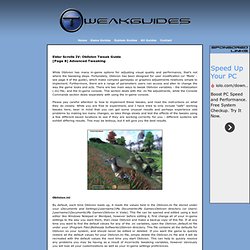 Fortunately, Oblivion has been designed for user modification (or 'Mods' - see page 4 of the guide), which make complex gameplay or graphics adjustments relatively simple to implement. Furthermore, there are a range of parameters users can access and alter to change the way the game looks and acts. There are two main ways to tweak Oblivion variables - the initialization (.ini) file; and the in-game console.
This section deals with the .ini file adjustments, while the Console Commands section deals separately with using the in-game console. Compatibility and you. Content: 1.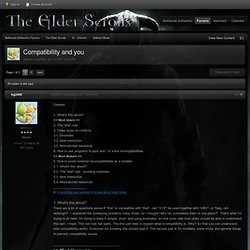 What's this about? >> Mod Users <<2. The "one" rule3. [relz] Fcom Convergence and UFCOM [relz] MMM and FCOM Omod Installer make installing things easier.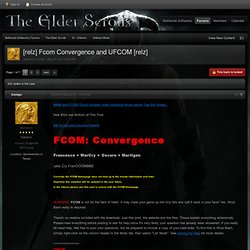 See this thread.. New BSA see Bottom of This Post. Companion Vilja at The Elder Scrolls Nexus. "Technically, Vilja is just a companion.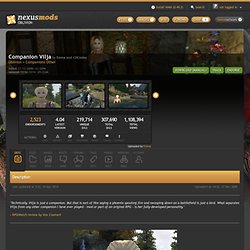 But that is sort of like saying a phoenix spouting fire and swooping down on a battlefield is just a bird. What separates Vilja from any other companion I have ever played - mod or part of an original RPG - is her fully-developed personality. "- RPGWatch review by Vox Clamant. Start. "You may believe that man alone is responsible for what becomes of himself.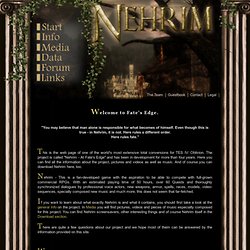 Even though this is true - in Nehrim, it is not. Here rules a different order. Here rules fate. " This is the web page of one of the world's most extensive total conversions for TES IV: Oblivion. The project is called "Nehrim - At Fate's Edge" and has been in development for more than four years. A fond dans la dconne mais pas trop. Vous avez trouvé Oblivion trop simple, trop assisté et vous êtes en manque de Jeux de rôle, voici une solution longue et compliquée à mettre en place, mais qui vous le rendra bien.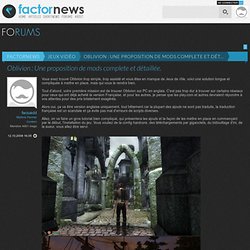 Tout d'abord, votre première mission est de trouver Oblivion sur PC en anglais. C'est pas trop dur à trouver sur certains réseaux pour ceux qui ont déjà acheté la version Française, et pour les autres, je pense que les play.com et autres devraient répondre à vos attentes pour des prix totalement exagérés. Alors oui, ça va être version anglaise uniquement, tout bêtement car la plupart des ajouts ne sont pas traduits, la traduction française est un scandale et ça évite pas mal d'erreurs de scripts diverses. Allez, on va faire un gros tutorial bien compliqué, qui présentera les ajouts et la façon de les mettre en place en commençant par le début, l'installation du jeu.
Oblivion : Avoir un beau Oblivion. Le guide pour avoir un Oblivion le plus beau possible. Ce guide a simplement pour but d'expliquer comment améliorer la qualité graphique d'Oblivion. Il présente les principaux mods dans ce domaine et comment les combiner. Les mods présentés ici ne modifient pas le jeu en profondeur mais seulement l'apparence et la qualité graphique de ce qui existe déjà dans l'Oblivion de base & ses extensions officielles.
Les mods qui modifient en profondeur le jeu feront l'objet d'un autre article. La plupart des mods présentés ici sont des packs de textures ou des remplacements, si vous souhaitez que tous se passe bien allez donc faire un tour du coté de l'Archive Invalidation qui est indispensable au fonctionnement de ce genre de mods. Ryu Doppler. Oblivion, The Elder Scrolls IV - Steam Users' Forums. Beautifying Oblivion the Complete Guide - Steam Users' Forums. It seems that my post regarding the graphical enhancements went down well so, Im gonna go through my TOTAL overhaul experience including visuals, UIs and other nice things that I put into my Oblivion to make it so super awesome. So rather than waste time, Im gonna go straight into it and start with the visual aspects of the game: Step 1> Download and install OBMM.
Cyrodiil Map - Official. 18861_0_org.jpg (Image JPEG, 1715x1426 pixels) - Redimensionne (61%) Bestiaire - Wiwiland. Wiki. Site Officiel The Elder Scrolls | Oblivion | Tlchargements.
---