SocialSoup
The 10 Most Viral Tumblr Blogs Of 2013 | Fast Company | Business + Innovation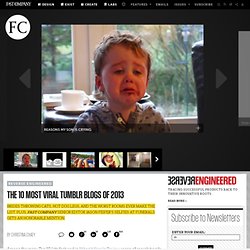 Among the many Top 10 lists featured in Yahoo's Year In Review recap of search trends in 2013 is a new addition to the 13-year-old report: a look into some trends on Tumblr, the blogging platform that Yahoo acquired in May. Here's how the year's most viral Tumblrs stacked up: Top 10 Most Viral Blogs on Tumblr in 2013: 1.
#NewhouseSM4 @DR4WARD with Teaching Team: #SocialSoup @_JessA
DR4WARD Curated Resources for Global Marketing / International Marketing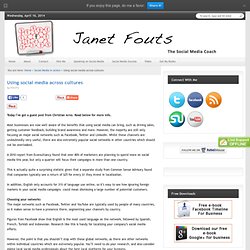 Using social media across cultures
Today I've got a guest post from Christian Arno. Read below for more info. Most businesses are now well aware of the benefits that using social media can bring, such as driving sales, getting customer feedback, building brand awareness and more. However, the majority are still only focusing on major social networks such as Facebook, Twitter and LinkedIn.
Five lessons learned about cross-cultural social networking
Iceland's president: Social media turns government into a 'sideshow'
This neat little infographic from Endelman Digital maps out the social media habits of internet users all across Asia. The data used comes from PC-based internet users only, leaving out the very substantial chunk of Asians staring at the internet through their phone or at an internet cafe. But anyway, it's pretty to look at, and gives a nice clear peak at user habits, as well as Facebook 's slow and steady world domination . ( Penn Olson points out that Facebook actually does surpass Wretch in Taiwan, with 58% online penetration.) It's clear that video viewing eats up the lion's share of Asia's time online, while blogging falls a close second in most countries. Interestingly, China has the lowest percentage of social networking usage of all 13 countries listed (I can't decide if this is surprising or not.) But more importantly, how do you measure how much time Chinese users eat up reading online novels?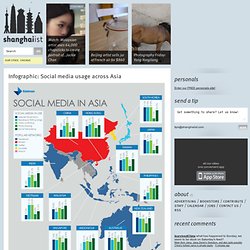 Infographic: Social media usage across Asia - Shanghaiist