J_thurston
National Geographic - Inspiring People to Care About the Planet Since 1888. YouTube - Broadcast Yourself.
How to give your creaky old Windows computer an Ubuntu makeover. - By Farhad Manjoo. Almost two years ago, I reviewed Ubuntu, the user-friendly version of the free Linux operating system.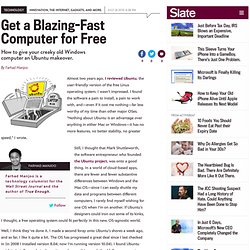 I wasn't impressed. I found the software a pain to install, a pain to work with, and—even if it cost me nothing—far less worthy of my time than other major OSes. Your Office Chair Is Killing You.
GAMES. SOCIAL. NEWS. LINUX. OTHERS. Reddit.com: what's new online! Reddit stories. "BIG THANKS TO MY FRIENDS..." [PIC] : pics. ROTTEN TOMATOES: Movies - New Movie Reviews and Previews!
---