Symfony1.4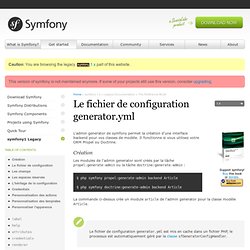 L'admin generator de symfony permet la création d'une interface backend pour vos classes de modèle. Il fonctionne si vous utilisez votre ORM Propel ou Doctrine. Création Les modules de l'admin generator sont créés par la tâche propel:generate-admin ou la tâche doctrine:generate-admin : $ php symfony propel:generate-admin backend Article $ php symfony doctrine:generate-admin backend Article La commande ci-dessus crée un module article de l'admin generator pour la classe modèle Article.
The symfony Reference Book | Le fichier de configuration generator.yml
Admin Generator Extensions sfPropelORMPlugin comes bundled with a new admin generator theme named 'admin15'. This theme provides additional features based on the new Propel 1.5 query objects, and is backwards compatible with sfPropelPlugin's admin generator theme. To enable this theme, edit your generator.yml and change the theme property from admin to admin15, as follows: generator: class: sfPropelGenerator param: model_class: Book theme: admin15 non_verbose_templates: true with_show: false singular: Book plural: Books route_prefix: book with_propel_route: 1 actions_base_class: sfActions You can now use the additional features listed below.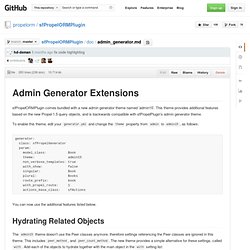 doc/admin_generator.md at master from propelorm/sfPropelORMPlugin - GitHub