Wikipedia
Witchs Finger Carlsbad Caverns.jpg - Wikipedia, the free encyclopedia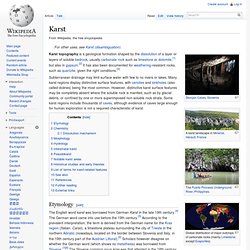 The karst hills of The Burren on the west coast of Ireland Karst topography is a geological formation shaped by the dissolution of a layer or layers of soluble bedrock , usually carbonate rock such as limestone or dolomite , [ 1 ] but has also been documented for weathering -resistant rocks, such as quartzite , given the right conditions. [ 2 ] Subterranean drainage may limit surface water with few to no rivers or lakes. Many karst regions display distinctive surface features, with cenotes , sinkholes or dolines being the most common.
Karst
The Moonshine Man of Kentucky , illustration from Harper's Weekly , 1877, showing five scenes from the life of a Kentucky moonshiner Moonshine , also known as white lightning , mountain dew , hooch or Tennessee white whiskey , is a high-proof distilled spirit, generally produced illicitly. The word is believed to derive from the term " moonrakers " used for early English smugglers and the clandestine (i.e., by the light of the moon) nature of the operations of illegal Appalachian distillers who produced and distributed whiskey . [ 1 ] [ 2 ]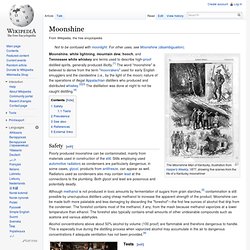 Moonshine
List of fictional books
A fictional book is a non-existent book created specifically for (i.e. within) a work of fiction . This is not a list of works of fiction (i.e., actual novels, mysteries , etc), but rather imaginary books that do not actually exist. [ edit ] Uses
Galileo Galilei, portrait by Justus Sustermans, 1636, National Maritime Museum, London.
E pur si muove!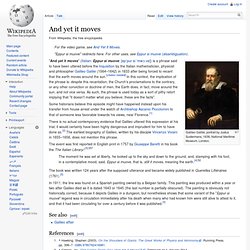 Statism
The Statists ( Dutch : Statisten ) were a conservative political faction during the Brabant Revolution led by Henri Van der Noot and fiercely opposed to the more radical " Vonckist " faction.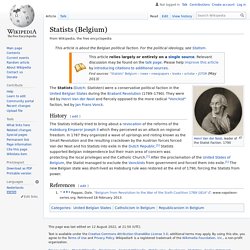 Good articles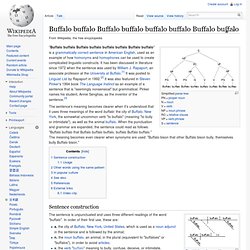 " Buffalo buffalo Buffalo buffalo buffalo buffalo Buffalo buffalo " is a grammatically valid sentence in American English , used as an example of how homonyms and homophones can be used to create complicated linguistic constructs. It has been discussed in literature since 1972 when the sentence was used by William J. Rapaport , an associate professor at the University at Buffalo . [ 1 ] It was posted to Linguist List by Rapaport in 1992. [ 2 ] It was also featured in Steven Pinker 's 1994 book The Language Instinct as an example of a sentence that is "seemingly nonsensical" but grammatical. Pinker names his student Annie Senghas as the inventor of the sentence. [ 3 ]