#occupy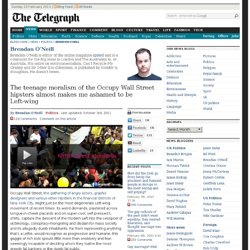 The teenage moralism of the Occupy Wall Street hipsters almost makes me ashamed to be Left-wing
Occupy Wall Street, the gathering of angry actors, graphic designers and various other hipsters in the financial districts of New York City , might just be the most degenerate Left-wing movement of recent times. Its weird demands, plastered across tongue-in-cheek placards and on super-cool, self-pressed t- shirts, capture the descent of the modern Left into the cesspool of victimology, conspiracy-mongering and disdain for mass society and its allegedly dumb inhabitants. Far from representing anything that I, a Leftie, would recognise as progressive and humane, this gaggle of rich kids spouts little more than snobbery and fear, seemingly incapable of deciding whom they loathe the most: greedy fat bankers or the dumb fat public. Occupy Wall Street claims to be a mass workers' movement, but it's nothing of the sort.
'Buffett Rule' Debate Blocked by Republicans
But the fierce debate preceding the 51-45 vote — the Democrats were nine votes short of the 60 they needed — set off a week of political wrangling over taxes that both parties insist they are already winning. Senate Democrats intend to return repeatedly to the legislation, named after the billionaire investor , who has complained that he pays a lower effective tax rate than his secretary. On Thursday, House Republicans will counter with a proposed tax cut for businesses that they say would spur job creation but would cost the Treasury almost exactly what the Democrats' tax increase would raise. Republicans say they like that contrast, and their language ahead of the vote on a motion just to take up the Buffett Rule was harsh and aimed squarely at Mr. Obama, who first proposed a 30-percent tax rate floor for anyone earning at least $1 million a year last September. Senator Mitch McConnell of Kentucky, the Republican minority leader, went to the Senate floor and all but called Mr.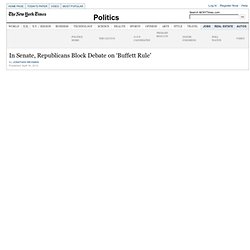 An anonymous career banker inside Goldman Sachs opened a twitter account (@GSElevator) with the intention of revealing the hilarious banter that takes place in the privacy of the GS elevators. Since then, the account has evolved to include things overheard on trading floors, bullpens, lobbies and bars. Some of the conversations involve more than one person, and the participants are distinguishable by their number (#1, #2, #3).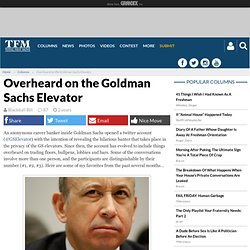 Overheard on the Goldman Sachs Elevator
Occupy George
Doctor Popular used an empty Employment Guide newspaper box (how apropos) in San Francisco to create his Occupy News Bins diorama out of LEGOs. The scene mimics the recent UC Davis pepper spray incident complete with a smirking Lt. John Pike pepper-spraying peaceful protesters. It also includes a mini 12 Galaxies sign (but no sign of Frank Chu).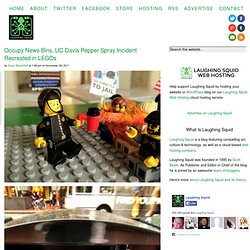 Occupy News Bins, UC Davis Pepper Spray Incident Recreated in LEGOs