Fractales
Le fascinant univers des fractales. Un merveilleux voyage dans l'univers fractal de l'équation de Benoît Mandelbrot qu'il a élaborée en cherchant à décrire les formes complexes de la nature échappant à la géométrie classique.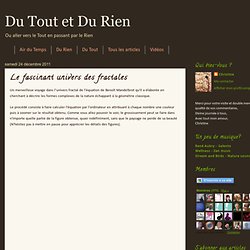 Le procédé consiste à faire calculer l'équation par l'ordinateur en attribuant à chaque nombre une couleur puis à zoomer sur le résultat obtenu. Comme vous allez pouvoir le voir, le grossissement peut se faire dans n'importe quelle partie de la figure obtenue, quasi indéfiniment, sans que le paysage ne perde de sa beauté (N'hésitez pas à mettre en pause pour apprécier les détails des figures). Untitled. La Matrice. Galeries d'images fractales. Mystery of the Real 3D Mandelbrot Fractal. They're all very nice, but imagine such pictures in three dimensions, with all the advantages that 3D can allow such as parallax, perspective, and richer detail along with subtle light sourcing, shadows, and reflections.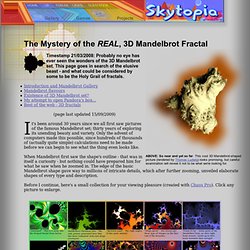 And actually, it turns out there are quite a few '3D' Mandelbot pics out there if you look..... Mandelbrot Flavours .....But are they the real McCoy, or just pale imitations? In fact, whenever you see a so-called 3D Mandelbrot image, roughly speaking, they can be divided into four types: Existence of 3D Mandelbrot set?
---