Curation
As the web becomes more and more inundated with blogs, videos, tweets, status updates, news, articles, and countless other forms of content, "information overload" is something we all seem to suffer. It is becoming more difficult to weed through all the "stuff" out there and pluck out the best, most share-worthy tidbits of information, especially if your topic is niche. Let's face it, Google definitely has its shortcomings when it comes to content curation and the more it tries to cater to all audiences, the less useful it becomes.
Plates-formes de curation
Internet permet de publier et d'échanger chaque jour des milliards de données, auxquelles accèdent plus de 2 milliards de personnes dans le monde. Cette masse d'information rend difficile, lorsque l'on mène une recherche, la différentiation entre le bruit de fond et les informations pertinentes et utiles. De plus, ces recherches sont chronophages et peuvent dépasser largement le temps que nous avons à y consacrer. Aujourd'hui, Google et les moteurs de recherche spécialisés comme Google Scholar reposent sur des algorithmes éprouvés.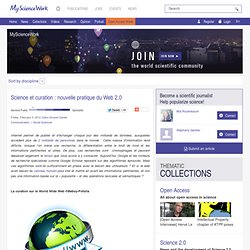 Curation edp2500
I just finished reading a great post by Ville Kilkku titled: Klout, Triberr, paper.li, and the future of content curation. It made me realize that people curation should be a lot of what we are really talking about here. But before I get to that, let me step through what he talks about. He takes us through a few different models of content curation. I'm going to need to compare these to my post on Marketing via Aggregation, Filtering and Curation – Tools and Resources to see if this classification changes things.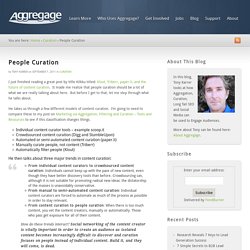 People Curation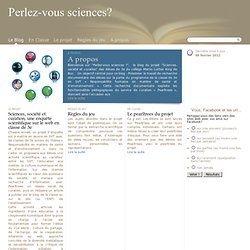 Perlez-vous sciences?
Chaque année, un projet d'enquête est à mettre en œuvre en SVT avec les classes de 3e autour du thème « Responsabilité en matière de santé et d'environnement ». Dans ce cadre, on proposera aux élèves une activité scientifique au carrefour entre les SVT, l'éducation aux médias, la culture numérique et de l'information. Sur des thèmes scientifiques au cœur des questions de société, on mènera une recherche d'information avec Pearltrees, un réseau social de curation, puis on rédigera un article à publier sur le blog de la classe ou sur le site (ou l'ENT) de l'établissement.