Anglais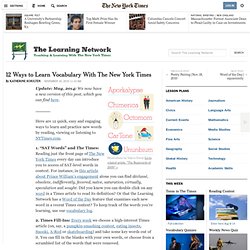 Here are 12 quick, easy and engaging ways to learn and practice new words by reading, viewing or listening to NYTimes.com . 1. "SAT Words" and The Times: Reading just the front page of The New York Times every day can introduce you to scores of SAT-level words in context. For instance, in this article about Prince William's engagement alone you can find déclassé, obsolete, indifferently, fevered, naïve, saturation, virtually, speculation and sought. Did you know you can double click on any word in a Times article to read its definition? Or that the Learning Network has a Word of the Day feature that examines each new word in a recent Times context?
The Guide to Grammar and Writing is sponsored by the Capital Community College Foundation , a nonprofit 501 c-3 organization that supports scholarships, faculty development, and curriculum innovation. If you feel we have provided something of value and wish to show your appreciation, you can assist the College and its students with a tax-deductible contribution. For more about giving to Capital, write to CCC Foundation, 950 Main Street, Hartford, CT 06103.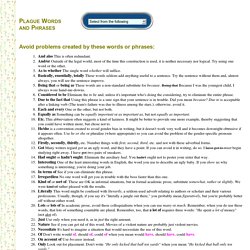 Misused Expressions. Strunk, William, Jr. 1918. Elements of Style
bothly - English-French Dictionary WordReference
boldly - English-French Dictionary WordReference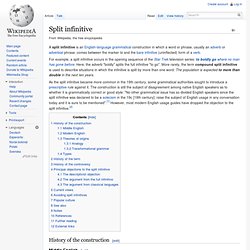 A split infinitive is an English-language grammatical construction in which a word or phrase, usually an adverb or adverbial phrase, comes between the marker to and the bare infinitive (uninflected) form of a verb . For example, a split infinitive occurs in the opening sequence of the Star Trek television series: to boldly go where no man has gone before . Here, the adverb "boldly" splits the full infinitive "to go". More rarely, the term compound split infinitive is used to describe situations in which the infinitive is split by more than one word: The population is expected to more than double in the next ten years .
Split infinitive