Security and communications
Martus.org -- Human Rights Bulletin System. Security Best Practices - Ushahidi - Confluence. Page Not Found The page you were trying to reach could not be found: it may have been renamed or moved to another space, or the name you requested may be incomplete.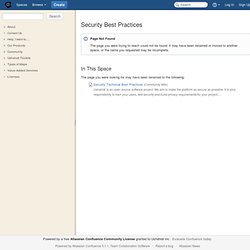 The page you were looking for may have been renamed to the following: Page: Security Technical Best Practices (Community Wiki) Ushahidi is an open source software project. For Bloggers at Risk: Creating a Contingency Plan. In 2011, we have witnessed the incredible power of bloggers and social media users capturing the world's attention through their activism.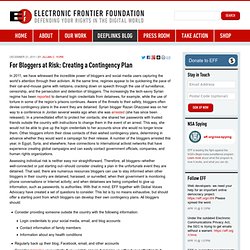 At the same time, regimes appear to be quickening the pace of their cat-and-mouse game with netizens, cracking down on speech through the use of surveillance, censorship, and the persecution and detention of bloggers. The increasingly the tech-savvy Syrian regime has been reported to demand login credentials from detainees, for example, while the use of torture in some of the region's prisons continues.Aware of the threats to their safety, bloggers often devise contingency plans in the event they are detained. Syrian blogger Razan Ghazzawi was on her way to a conference in Jordan several weeks ago when she was arrested (she has since been released). In a premeditated effort to protect her contacts, she shared her passwords with trusted friends outside the country with instructions to change them in the event of an arrest.
Protecting Your Security Online | Access. Mobilizing for Global Digital Freedom Protecting Your Security Online Click on the online readers below to explore "A Practical Guide to Protecting Your Identity and Security Online and When Using Mobile Phones" in a variety of languages.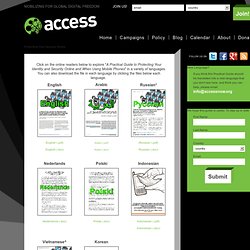 You can also download the file in each language by clicking the files below each language. Facebook Privacy Dwarfed By Google: Infographic. Graph.facebook.com/beth.kanter. Safely and Securely Producing Media | Small World News. Training Guides Safely and Securely Producing Media ENGLISH (9MB) (9MB) العربية.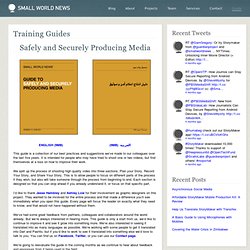 ONO - Survival in the digital age. New: Three Reports on Circumvention Tool Usage, International Bloggers, and Internet Control. August 18, 2011 The Berkman Center is pleased to release three new publications as part of our circumvention project.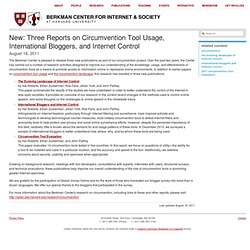 Over the past two years, the Center has carried out a number of research activities designed to improve our understanding of the knowledge, usage, and effectiveness of circumvention tools as a means to promote access to information online in repressive online environments. In addition to earlier papers on circumvention tool usage and the circumvention landscape, this research has resulted in three new publications: The Evolving Landscape of Internet Control by Hal Roberts, Ethan Zuckerman, Rob Faris, Jillian York, and John Palfrey This paper summarizes the results of the studies we have undertaken in order to better understand the control of the Internet in less open societies.
How To Remain Connected If Your Internet Gets Shut Off.
Surveillance Self-Defense International. Published July 2009; revised June 2010. 6 Ideas For Those Needing Defensive Technology to Protect Free Speech from Authoritarian Regimes and 4 Ways the Rest of Us Can Help Peter Eckersley, pde@eff.org Introduction: The Internet remains one of the most powerful means ever created to give voice to repressed people around the world.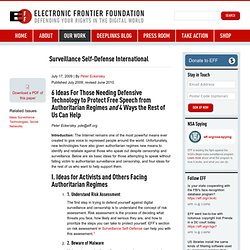 Unfortunately, new technologies have also given authoritarian regimes new means to identify and retaliate against those who speak out despite censorship and surveillance. Human Rights Video, Privacy and Visual Anonymity in the Facebook Age : Video For Change :: A WITNESS blog. Protester's placard thanking youth of Egypt and Facebook (via Twitter user @richardengelnbc, and now widely re-posted online) The successful nationwide organizing and subsequent protests in Egypt to oust the 30-year regime of President Hosni Mubarak have in part been facilitated by Facebook.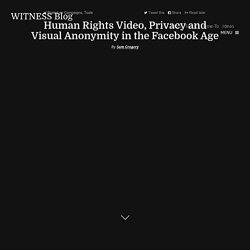 But as media and technology commentators and human rights activists alike are noting, using Facebook for activism is fraught with risks. Facebook's insistence that its users use their 'real identity' when signing up – and deleting accounts and groups that do no comply – makes it difficult for human rights activists needing to work anonymously or pseudonymously. About « Crabgrass. Current Status Crabgrass currently consists of a solid suite of group collaboration tools, such as private wikis, task lists, file repository, and decision making tools.
We are currently working on a large user interface overhaul, better social networking tools, blogs, and event calendars, as well as better support for collaboration and decision making among independent groups.
---